Newest Reviews:
New Movies -
Abraham Lincoln: Vampire Hunter
Old Movies -
Touki Bouki: The Journey of the Hyena
The Strange Affair of Uncle Harry
Archives -
Recap: 2000, 2001, 2002, 2003, 2004 , 2005, 2006, 2007 , 2008 , 2009 , 2010 , 2011 , 2012
The Mascot (Wladyslaw Starewicz) 1933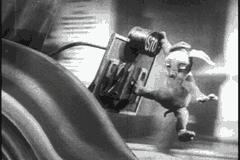 I came across Wladyslaw Starewicz's short (24 minutes) animated film The Mascot since it was, for some reason, included on a DVD edition of Carl Th. Dreyer's Vampyr that I had purchased. I had never previously seen any of Starewicz's films, nor even heard of them, but was astonished by the quality of animation and playfulness of tone in the film. The film's plot is simple, even for a short film, and mainly functions as a forum for the filmmaker to show off his stunningly accomplished puppet animation (similar to the more current work of the Brothers Quay). It tells the story of a newly created stuffed dog who is animated by the tear of a crying mother, and goes in search of an orange for his owner, his creator's son (the family is quite poor). His journey eventually puts the dog on the streets of the city, where he is lucky enough to obtain that orange (by biting the leg of an orange vendor!). That seemingly mismatched combination of sentimentality and deviousness is the film's most startlingly wonderful element.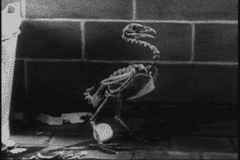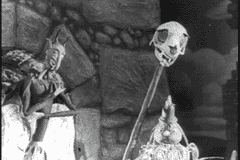 For example, accompanying the cute dog is a collection of puppets that include an oversexed monkey, a decapitated clown, and a knife-wielding thief. The second half of the film shows the appearance of Satan himself, as night's descent is marked with a hedonistic revelry. Clearly, before Disney's modern animation cornered the market on what the medium could represent, there was not such a preponderance of unchecked cuteness. Something like Pixar's Toy Story, which takes place in the same world of animated toys, really pales in comparison since, when contrasted to The Mascot, it appears overbearingly loud and frantic. To be fair, many of Walt Disney's films (Fantasia's "Night on Bald Mountain" sequence, the wicked queens of Snow White and Sleeping Beauty) felt truly sinister in the same way as Starewicz's creations, but this film pushes farther into the inherent nastiness found in most fairy tales than Walt ever did. The story line, which is undeniably cloying, doesn't feel nearly as maudlin as it might without the counterbalance of the mischievous antics and monstrous puppets. It's unfortunate that today's most similar animation (James and the Giant Peach, The Nightmare Before Christmas) fails to completely overcome the same sense of sappiness. I am unsure whether this represents a lack of sophistication in today's audiences or an increase in the expectations of what an animated film should be, resulting in dulled creativity from filmmakers. In any case, The Mascot is a truly captivating and thoroughly enchanting work and a landmark in animation.
****
11/14/01
Jeremy Heilman