Newest Reviews:
New Movies -
Abraham Lincoln: Vampire Hunter
Old Movies -
Touki Bouki: The Journey of the Hyena
The Strange Affair of Uncle Harry
Archives -
Recap: 2000, 2001, 2002, 2003, 2004 , 2005, 2006, 2007 , 2008 , 2009 , 2010 , 2011 , 2012
The Devilís Daughter (Arthur H. Legend, 1939)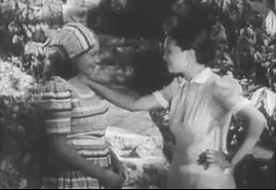 Perhaps only able to be parsed by modern viewers who are willing to make allowances for its historical context, Arthur H. Legendís The Devilís Daughter nonetheless is noteworthy for its status as a horror movie with an all-black cast. Set on a plantation in Jamaica, its simple story involves a voodoo plot, a contested will, sibling rivalry, and a mystical pig. These elements are hardly fodder for well-developed themes or great drama, but they offer enough to distract attention away from subpar production values and inconsistent acting.
Throughout The Devilís Daughter, actual locations are used to great effect. Between the overgrown jungle backdrops, the awareness of the plantationís social structure, and the constant drone of the voodoo drum beat, the movie develops an atmosphere that belies its niche roots. As wicked Hatian half-sister Miss Isabel, played with relish by Nina Mae McKinney, schemes to keep her plantation, she draws viewers into a world of voodoo magic rarely shown on screen.
There are elements here that warrant attention regardless of the narrative. The movie opens with two elaborately staged African American folk songs, performed by the cast. These have a documentary quality that makes them worthwhile even when divorced from the plot. Just as interesting, though, are the social divisions that exist among the cast of characters. City folk are pitted against island folk. The educated face off against the farmers. These tensions bubble under throughout the movie. We find out that rightful heir Sylvia had moved to Harlem at her fatherís request to get an education. Upon her return, she complains about feeling disconnected from her Jamaican roots, saying that the city has changed her in a way she canít quite explain. Just as surprising is the revelation that Sylviaís half-sister Isabel, a lifelong island native isnít a believer in voodoo herself, even though the workers that she employs are. She relies upon the superstitions of the indigenous people when hatching her plan, and shows no shame in exploiting them, as would befit a plantation owner.
Such political nuance enhances The Devilís Daughterís threadbare narrative. Still, the movieís most remarkable sequence functions as sociological spectacle. The extended voodoo ritual that sets the scene for climax feels genuine. It is so energetic that one suspects that its songs and dances were borrowed from actual rituals, and not dreamed up by screenwriters. Thereís no doubt that much of this material would soon be appropriated and more artfully shaped by Val Lewton for his classic I Walked With a Zombie, but in its best moments The Devilís Daughter achieves an authenticity that cannot be denied.
54
Jeremy Heilman
07.15.09