Newest Reviews:
New Movies -
Abraham Lincoln: Vampire Hunter
Old Movies -
Touki Bouki: The Journey of the Hyena
The Strange Affair of Uncle Harry
Archives -
Recap: 2000, 2001, 2002, 2003, 2004 , 2005, 2006, 2007 , 2008 , 2009 , 2010 , 2011 , 2012
The Small Back Room (Michael Powell | Emeric Pressburger, 1949)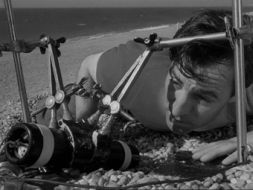 A tonally uncharacteristic, but typically accomplished example of their work, 1949ís The Small Back Room sees British treasures Powell and Pressburger exploring darker than usual territory. Equal parts The Lost Weekend and Saboteur, the movie follows Sammy Rice (David Farrar), a crippled bomb expert who hasnít yet come to terms with his disability. Tasked with the responsibility of investigating a nefarious new Nazi booby trap designed to target children, he finds himself pushed to the limit by government bureaucracy, then tensions of his job, and his own emotional strife.
Whatís most unique about The Small Back Room is the way it initially presents itself as wartime thriller, but then almost immediately shifts gears, becoming instead a character study. Riceís internal demons of alcoholism are as prominent here as any external demons from Germany. His painful artificial leg and the constant threat of the whiskey bottle as a mode of relief provide much of the tension and drama. Not until he conquers them can he go on to serve his motherland, or be the man that his secretary and would-be girlfriend needs, it seems. Itís a surprisingly effective perspective for the story, which both makes the movieís endgame doubly exciting and enhances the obligatory romantic subplot with something more than the obligatory.
The Small Back Room may be filmed in black and white, but itís not much less stylized than the Powell and Pressburger works that immediately preceded it. Adopting a look similar to that of American film noir, the movieís visuals are a definite match for the bleak subject matter. Itís a movie that eschews the realism of most World War II themed films of the era, substituting instead an intoxicating expressionism. This stylistic choice reaches a memorable peak during a nightmarish sequence, in which Riceís battle with his disease comes to a head, and he is besieged by a giant whiskey bottle. Itís a slightly silly moment, somewhat out of step with the bulk of the film, but it is one that is unmistakably Powell & Pressburgerís. A few other sequences are just as inimitable, including a war council meeting is punctuated by the blaring noise of a construction site and an extended bomb disarming sequence near the filmís end. The directors even find room for sequences that show off their penchant for humor, such as a quick scramble for a vacant subway seat, or the bit in which a group of scientists must put on a show to impress a visiting politician (thereís a very fine cameo from Robert Morley here).
The Small Back Room is too good to be regarded as the curio that most currently see it as. It was a commercial disappointment upon its initial release and is still considered a second-tier entry in Powell and Pressburgerís oeuvre. Its ability to fuse its disparate plot strands together is impressive by anyoneís standards, and its singularly atmospheric approach to the British war drama begs for further consideration. Through consummate skill in its filmmaking, it takes viewers to a place where wartime pressures are once again made overpoweringly real.
74
Jeremy Heilman
08.09.09