Newest Reviews:
New Movies -
Abraham Lincoln: Vampire Hunter
Old Movies -
Touki Bouki: The Journey of the Hyena
The Strange Affair of Uncle Harry
Archives -
Recap: 2000, 2001, 2002, 2003, 2004 , 2005, 2006, 2007 , 2008 , 2009 , 2010 , 2011 , 2012
An American in Paris (Vincente Minnelli) 1951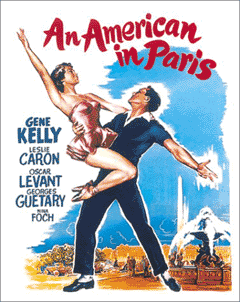 The first twenty-five minutes of Vincente Minnelli's Best Picture Oscar-winning An American in Paris are so dowdy and lackluster that you wonder what the Academy could have possibly been thinking. Finally, almost a half-hour in, Gene Kelly does a little dancing, and you understand a bit. There's undeniable joy in watching that guy move (even if he's the only character that does much quality soft-shoeing). Still, there's not enough dancing in the film, despite a stunning Impressionistic ballet at the end that lasts for almost twenty minutes. There's far too much of the dopey boy-meets girl plot and far too little chemistry between the romantic leads. There are a few moments here that attempt to stretch the boundaries of what the movie musical can accomplish, but that mostly makes you wish that the film would take even greater risks. If the twenty-minute dance were extended to feature-length, perhaps that would be something truly original and award-worthy, but as it is, the flashes of brilliance seem to struggle against the script, which feels as mass produced as anything the studio system churned out. For a film that's not even two hours long, there's a surprising number of scenes that feel like filler. This is hardly a movie that tries to be original, but one can't but help that it tried harder in that respect.
There's no doubt that both Kelly and Minnelli have made better musicals than An American in Paris. Certainly, Meet Me in St. Louis, which Minnelli directed or Singin' in the Rain, which starred Kelly, did more for the musical as an art form than this, but that seems to be roughly in line with the Academy's habit of honoring people for the "wrong" movies. Several scenes here are indeed classics in stature and there's an unusually great score courtesy of the Gershwins, but the feeling of escapism that they generate quickly fades away. There's a definite impression here that the film is a product of a committee, so things feel a little bland. There are definitely times that films made in the studio system feel as if everyone were so busy doing their task that no one made sure everything came together as it should, and the film's unevenness makes this feel like one of those times. The only things to watch for in the non-musical scenes are the handsome art direction and costuming. The cast, outside of Kelly, really does little to carry their weight. Ultimately, An American in Paris is completely watchable, but far from the musical ideal that some would have you believe.
***
01-11-02
Jeremy Heilman