Newest Reviews:
New Movies -
Abraham Lincoln: Vampire Hunter
Old Movies -
Touki Bouki: The Journey of the Hyena
The Strange Affair of Uncle Harry
Archives -
Recap: 2000, 2001, 2002, 2003, 2004 , 2005, 2006, 2007 , 2008 , 2009 , 2010 , 2011 , 2012
The Lusty Men (Nicholas Ray, 1952)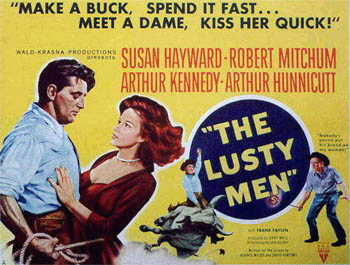 The first few brief sequences in Nicholas Ray's rip-roaring rodeo flick The Lusty Men tell us visually almost everything that we need to know about the director's interest in this story. We see legendary rider Jeff McCloud (Robert Mitchum) straddling a bucking bronco in a display of his masculine prowess. We see him as he's thrown from that horse in a demonstration of how that masculinity becomes self-destructive. We see him limp across the deserted ring after the show as the debris from the bygone celebration swirls around him. Afterwards, McCloud returns to his childhood home to find it dilapidated and owned by another person. With no home to return to, he makes a literal attempt to recapture his childhood as he climbs under his raised house to find a stash of childhood treasures. This affecting, wordless scene shows how in Ray's films, the protagonists speak most loudly with their actions. Though Jeff McCloud might not be a man of many words, we see that he's a man with secrets who is capable of sentimentality. When he does finally start to open up verbally, to the man who has purchased the farm he grew up on, the two of them communicate in the language of the everyman, with simple but sincere platitudes and philosophies. Perhaps the most telling moment of all occurs when McCloud compares his calling to a career in horse riding to a preacher's calling to the Lord. In Ray's eyes, McCloud's choice of profession might define him, but in no way does that choice limit his personal investment in the work he does. Even in the most seemingly mindless types of grunt work, the director sees the possibility of grace (a fitting stance for a man who frequently worked as a hired gun in the Hollywood studio system).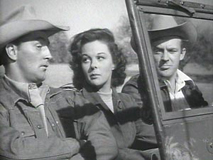 After McCloud's personality is established, The Lusty Men becomes more plot-driven, focusing less on his loneliness and more on his relationship with a young married couple who are attempting to earn enough money to purchase McCloud's old home. The breadwinner Wes (Arthur Kennedy) convinces McCloud to teach him the ropes of riding. Louise (Susan Hayward), Wes' headstrong wife is initially reticent to allow her husband to risk his life in the rodeo ring, but she acquiesces when Wes tells her she lacks guts. Before long, the trio set off on the rodeo circuit, lodging at a series of trailer parks and spending their evenings in rowdy bars as they hustle from town to town chasing after prize money. The film presents a portrait of America's capitalist system as a never-ending series of competitions, and as a result, the characters are rarely able to relate to each other without the buzz of commerce drowning out what they say. The integrated stock footage of rodeo performances genuinely adds to the excitement because it is suggested that each ride could be the last for these cowboys. The pursuit of fame has rarely looked so gritty in a classic Hollywood film, but the journey still has its share of humor and affection toward its characters.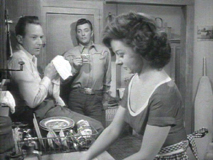 There's a certain amount of comedy in watching the two leading macho men tussle over who gets to bed down with the macho, gravelly voiced Louise, a woman who seems tough enough to tangle with either of them. Still, Ray isn't out to make fun of his characters. Shots such as the one where he raises a US flag between a composition featuring his two leading men in the foreground suggest an intangible feeling that they represent some larger, unsaid thing about the working men of America. There's sadness in the observation that the men in this profession inevitably start drinking and gambling to hide from others how scared they feel every time they get on the saddle. Since they seemingly can only fully express their emotions though riding and fear is not an option during the ride, the internalization of that fear takes its toll, leading to a slow downward spiral toward regret in which the men don't realize that their days of fame and wealth are passing them by. Ray does an excellent job of establishing these internal demons, so there's genuine tension in McCloud's struggles to save Wes from the fate that's already ruined him. Because of The Lusty Men's admirable emotional restraint, the quiet moment before the climactic ride where the men exchange a wink, a half-smile, and an affirmative "Good luck" has as much impact as any more emotive conversation could.
* * * *
03-24-03
Jeremy Heilman