Newest Reviews:
New Movies -
Abraham Lincoln: Vampire Hunter
Old Movies -
Touki Bouki: The Journey of the Hyena
The Strange Affair of Uncle Harry
Archives -
Recap: 2000, 2001, 2002, 2003, 2004 , 2005, 2006, 2007 , 2008 , 2009 , 2010 , 2011 , 2012
The Tell-Tale Heart (Ted Parmelee, 1953)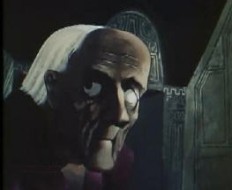 Edgar Allen Poe's enduring short story gets a first class treatment in Ted Parmelee's classic animated short The Tell-Tale Heart. Condensing Poe's admittedly slim narrative into a little over seven minutes, the movie retains the author's disturbing, single-minded atmosphere. Telling the story of a lodger who becomes obsessed with the milky white eye of his landlord, the short delivers its narrative almost entirely through James Mason's emotionally wrought voiceover. Surprisingly tense, this cartoon immediately achieves a gripping quality that most horror movies would gladly kill to attain. Its deft little script moves with startling immediacy throughout Poe's narrative, reaching mad climax and sweaty calm with equal aplomb. Each measured minute of it seems both an exciting realization of Poe's vision and a testament to the talents of the little-remembered UPA animation studios that produced it. Given its sheer singularity, it must have seemed doubly shocking to its contemporary audiences.
Really, though, the film's undeniable strength lies in its visual design. Chock full of surrealist imagery, the look of the movie feels like what would result when Salvador Dali had a nightmare. Undeniably painterly, but no less disturbing for it, the short still looks distinctive today. The unremittingly subjective camera angles place the audience directly in the mind of the killer, and the look of the short feels appropriately askew as a result, with angular character designs, and deep, inescapable shadows. We are asked to adopt the point of view of the narrator as he deliberately, inevitably pushes closer to the brink of madness. A moth, a pitcher, a teacup, and a decaying moon are highlighted to consciously recall the white eye of the old man. True to Poe's work, special attention is paid to subtle changes in light. UPA's artists here use a minimalist approach to the animation, relying more on abstraction and an expressive color palette to achieve their disturbing effects than motion. When things move, then, they inevitably become the object of our intense focus. This approach comes to a glorious peak in the tale's lone sequence of violence. As the narrator's anxiety builds, and he suddenly attacks the old man, the screen becomes a swirl of throbbing colors and thrashing limbs. It's a sequence worthy of Hitchcock, and a testament to the largely untapped dramatic power of animation. Without a doubt, The Tell-Tale Heart represents one of the medium's peak moments.
88
Jeremy Heilman
01.14.08