Newest Reviews:
New Movies -
Abraham Lincoln: Vampire Hunter
Old Movies -
Touki Bouki: The Journey of the Hyena
The Strange Affair of Uncle Harry
Archives -
Recap: 2000, 2001, 2002, 2003, 2004 , 2005, 2006, 2007 , 2008 , 2009 , 2010 , 2011 , 2012
The Seventh Seal (Ingmar Bergman) 1957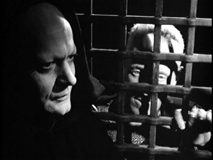 Easily, one of the greatest films ever made, The Seventh Seal, Ingmar Bergmanís towering allegory about the human condition, seems at once utterly timeless and acutely aware of the world that it takes place in. Set in 14th-century Sweden, the movie takes place in a medieval land thatís being torn apart by the Crusades and the Plague, but it focuses just as intently on the fleeting moments of happiness that its characters feel as the disasters that they face. Within minutes of its opening, the movie casts itself into a realm of abstraction, trotting out Death itself as a main character, and this distance from reality enables it to look more directly at its philosophical question, which is, basically, ďWhat if there is no God?Ē A variety of answers are offered up to this question, through the reactions of the diverse assortment of characters that populates the film, and each of them is parlayed with enough conviction from the actor delivering it that it feels as convincing and right as the last. As in many of Bergmanís films, itís fairly impossible to find a definitive surrogate for the director, since each character is both sympathetic and pitiable.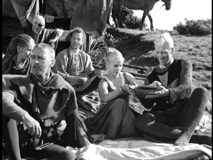 Every scene seems to be balanced delicately between comedy and drama, and in the best scenes (the confession to Death, the confrontation of the priest turned grave-robber) each line of dialogue seems to change what the scene is trying to say. The theme moves from anger, to revenge, to lust, to freedom, to fear, to forgiveness, from second to second. You realize what it's trying to do, and succeeding at, is saying all of those things about people at once. Its optimistic and droll moments are all the more impressive because they come after people stare into the abyss. The impending end of the world seems no reason not to keep oneís chin up. Perhaps even more impressively, it shows that the desire to search for answers here doesn't preclude being afraid that the answer might not be what one hoped. The reaction of a knight (a brilliant Max von Sydow) and his squire (Gunnar Bjornstrand) to spiritual disappointment is contrasted most tragically against that of an angry mob that burns an innocent girl, claiming she is a witch. The power of this harrowing scene is reduced in no way by the shenanigans that surround it, nor the impression that Judgment Day is just around the corner anyway.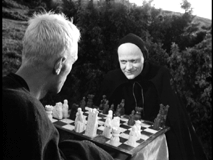 Bergman touches on nearly every one of his major themes in The Seventh Seal, and if he might have elaborated on many of them better elsewhere, I'm not sure that he's ever made such a comprehensive, watchable flick as this one. Manís self-destructive search for answers is made literally apocalyptic here, but itís also made apparent that itís wholly necessary if any meaning is to be found. The complexities that the film offers up as answers seem to hold fragments of universal truth, but nothing definitive, and in that haziness lays the movieís truest wisdom. The blunt insistence of Death (the unforgettable Bengt Ekerot) that the game of life must come to an end frustrates most since, thanks to the supreme intelligence of the script, we felt we were on the right path, even if still havenít figured it all out. The movieís ultimate message is not to look for definitive answers, since nothing is guaranteed to remain as might originally appear. Even inevitable death is a disappointing anticlimax here, since it doesnít bestow the expected enlightenment with its coming. The serendipitous joys found in the moment are most important in this context because they make no demands and carry with them no expectation. That surprisingly life-affirming message is the one thing in The Seventh Seal that endures long after its striking images of death and decay fade from the mind.

* * * * Masterpiece

05-24-02

Jeremy Heilman