Newest Reviews:
New Movies -
Abraham Lincoln: Vampire Hunter
Old Movies -
Touki Bouki: The Journey of the Hyena
The Strange Affair of Uncle Harry
Archives -
Recap: 2000, 2001, 2002, 2003, 2004 , 2005, 2006, 2007 , 2008 , 2009 , 2010 , 2011 , 2012
The Haunted Palace (Roger Corman, 1963)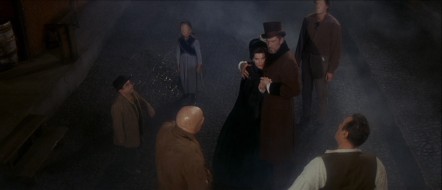 Despite the title, which is taken from a poem by Edgar Allen Poe, Roger Cormanís The Haunted Palace is, in fact, an adaptation of H.P. Lovecraftís ďThe Case of Charles Dexter WardĒ. Poeís verse is partially (and somewhat inappropriately) recited in the opening and closing moments, but itís Lovecraftís short story that provides most of the details of the plot. Chronicling the strange possession of an 18th-century man by his necromancer ancestor, the film finds Corman using the stylistic skill he gained while creating his series of Poe adaptations to tackle this new authorís vision. Many of the key collaborators who Corman worked with during his Poe cycle, such as cinematographer Floyd Crosby, set designer Daniel Haller, and scenarist Charles Beaumont, return here to assist Corman in recreating the pervasive mood and style that defined the earlier movies.
Though slightly toned down when compared to Cormanís gussied up Poe films, The Haunted Palace is stylistically in the same ballpark, to be sure. The baroque sets and theatrical lighting compliment the outsized performances nicely. Vincent Price, who starred in most of Cormanís films of the era, is the clear standout among this stalwart cast, chewing scenery and oozing menace in a double role. He is complimented nicely by fellow horror icon Lon Chaney Jr., who maximizes the effect of his small part as Priceís creepy caretaker. Given their presence in a story that also includes summoned monsters, mutant townsfolk, and a burning at the stake, itís easy to get a little spooked by The Haunted Palace.
Roger Cormanís Poe cycle, when it arrived alongside the Hammer horror films of the same era, seemed like a genuine successor to the Hollywood genre classics of the Ď30s and Ď40s. Possessing a classy focus on dense atmosphere over overt gore, they were well-paced and consistent enough to still maintain interest and provoke fright today. Cormanís widescreen framing, the blazing Technicolor photography, and the effectively maximized production values created a convincing, if twisted, world that is a pleasure to revisit in this era of cheap teen-centric jolts. That The Haunted Palace merely represents an average entry in the Poe series, most notable due to its deceptive literary origins, is a testament to the strength of Cormanís accomplishment during this inspired creative run.
68
Jeremy Heilman
01.28.08