Newest Reviews:
New Movies -
Abraham Lincoln: Vampire Hunter
Old Movies -
Touki Bouki: The Journey of the Hyena
The Strange Affair of Uncle Harry
Archives -
Recap: 2000, 2001, 2002, 2003, 2004 , 2005, 2006, 2007 , 2008 , 2009 , 2010 , 2011 , 2012
Twice-Told Tales (Sidney Salkow) 1963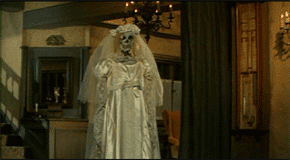 Perhaps, because of its reliance on three Hawthorne classics for inspiration, this Vincent Price vehicle manages to still feel quite solid today. A better than average sixties horror anthology, Twice-Told Tales manages to retain a great deal of the literate feel of Hawthorne's work. Despite my having previously read all of the source material (the segments recreate "Dr. Heidigger's Experiment", "Rappiccini's Daughter" and "The House of Seven Gables"), the film managed to entertain me on a level far from camp. To me, the most distinctive thing about Hawthorne's gothic prose is his sheer puritanical shock at the horrors in his story. His stories almost always swerve into the supernatural, and his reaction seems to suggest a repressed denial of the horror that seems to lie under colonial American society.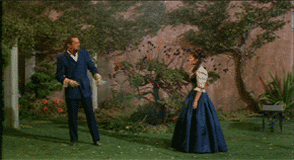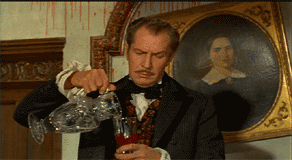 Thankfully, in this respect, and most others, the segments are all relatively faithful to their source, though "The House of the Seven Gables", which was based on a novel instead of a short story, suffers slightly. That segment does not quite manage to evoke the feeling that the sins of the fathers have caused the current generation's suffering in the way the novel does, and the parallel love stories that were the novel's emotional center feel a bit slighted so that the film may present more of the treachery and horror. Still, the film is a horror film, so such a choice is quite understandable. Price is teriffic in all three segments. He never quite is able to disappear into a role, since he carries so much baggage as a celebrity, but he manages quite well to distinguish the three characters he plays from each other. The supporting cast, with the exception of the dewy-eyed lovebirds of the middle segment, are well cast and effective. The film manages to exude creepiness without a reliance on gore, and that feels particularly refreshing these days. Also of note is the excellent Technicolor cinematography. It is a shame that process isn't widely used any longer, as it allowed even a genre picture churned out by the studio like this one to look fine. It is also a shame that the horror anthology has fallen out of favor, and has been ghettoized to the world of direct-to-video. Most horror films these days have subjects that cannot support a feature's running time, and this sort of treatment would make them far more watchable. In any case, for those not obsessed with today's bombastic, cheap, teen-centric jolts, this film will serve quite nicely.
***1/2
October, 2001
Jeremy Heilman