Newest Reviews:
New Movies -
Abraham Lincoln: Vampire Hunter
Old Movies -
Touki Bouki: The Journey of the Hyena
The Strange Affair of Uncle Harry
Archives -
Recap: 2000, 2001, 2002, 2003, 2004 , 2005, 2006, 2007 , 2008 , 2009 , 2010 , 2011 , 2012
Une Femme Mariée (Jean-Luc Godard, 1964)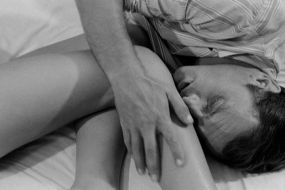 The practical and romantic concerns of a middle-class Parisian woman serve as a culture's bellwether in Jean-Luc Godard's Une Femme Mariée. As the title implies, the lead character here, Charlotte, is already married, bound by a contract to be faithful, and yet Godard shows that she still has personal desires and yearns for freedom. When this film opens, we find Charlotte in bed, not with her husband, but with another man, engaging in an adulterous affair. He asks whether or not she loves him, but she dodges the question. During this first scene, the sounds and images of aircraft (which will later become obvious references her husband, an airline engineer) intrude upon their love making. From the start, it is made clear that Charlotte has a choice to make. Should she stay in her unsatisfactory, distrustful marriage or pursue an uncertain life with the new man? The slim plot centers on this decision, presenting the myriad factors that contribute to Charlotte's mindset and providing insight into her fundamental uncertainty.
Although Godard forefronts a woman's choice, his movie is not a melodrama or a women's picture in the traditional sense. Charlotte is presented as a modern woman, but in Godard's terms that modernity comes with a great deal of cultural baggage. Outwardly carefree, Charlotte is revealed to be rather vapid, more concerned about the latest products to buy than history. "The past isn't amusing, the present is more important," Charlotte says, which is obviously a clue to her emotional standing between her two paramours and a statement that's reprehensible to the history-obsessed Godard. As her scattered, whispered thoughts reveal, Charlotte has no grand plan to fulfill. She happily consumes mass-produced products and disposable information, without much self-reflection. Even when life-changing decisions are laid before her, she demurs. Despite all of this, though, she is treated sympathetically by the film. While Godard's depiction of Charlotte does much to deny the insistence of most films that all women have a rich, hidden interior life, he is too smart to see this solely as Charlotte's foible. She merely is complicit with the culture that she lives in. She doesn't subvert it. She is, like most of us, self-obsessed and rather unexceptional.
Une Femme Mariée is less aggressively styled than most of Godard's films, but it uses the visual parlance of advertising to firmly situate Charlotte as a product of her society. She alone is not to blame for her lack of depth, and Godard's acknowledgement of that fact shows a great deal of insight and empathy. Even more impressive, however, is Godard's decision to film Charlotte's sexual encounters through a series of static close-ups, which are more apt to include body parts than facial features. This motif is repeated several times to varying effects, effectively demonstrating the director's ability to bend his style to suit his needs. When we first see Charlotte, in the opening scene, she is a nameless body, segmented into anonymous parts by the camera compositions. She's presented to us as a commodity before she's identified as a person. When a later scene similarly fragments Charlotte and her lover, though, the mood is more intimate, and the feelings between the two seem reciprocal, giving hope that her relationship with him might last. In a third sequence, when Charlotte is in bed with her husband, the same technique suggests alienation, their two faces never sharing the screen together. In Une Femme Mariée's final section, Charlotte at last decides which man to commit to, but the closing shot (a mirror of the first) suggests that the choice might not be hers to make. These sequences, which take up a sizeable chunk of the film's 94 minutes, brilliantly capture the capricious nature of love.
The satiric elements of Une Femme Mariée are ever-present, yet never dwarf Charlotte's dilemma. If anything, Charlotte's status as a contemporary woman seems inextricably tied to her indecision. Godard shows that she is indifferent about the Holocaust and more concerned with her fashion magazines (which make her bust's shortcomings clear to her). She does little beyond instigate the affair to threaten her sheltered and comfortable life, usually only seeking self-improvement in the most superficial ways. The brand names of household products dot the background of a majority of scenes, and we see the numerous beauty products that Charlotte uses to achieve her looks. Beyond these tokens, she seems disconnected from her home life. She sends her love to her husband by proxy through her maid (who remains for much of the film a disembodied voice), while her husband suggests they have the maid buy some leeks, since the radio claims they lower cholesterol. She lives in a world that dictates how she should live, so when faced with the prospect of stepping outside those bounds with her lover, she is understandably bewildered.
The focus on Charlotte's feelings lightens, but never dilutes, the toughness of Godard's critique. He's able to point out her vapidity and explain that it's not a personal shortcoming so much as it's an inevitable byproduct of the roles that her society and her husband ask her to play. The pressures of each are present throughout the film, lending extra drama to her ultimate decision, even as they give the film rhetorical weight. The airport near the hotel where she has her secret trysts is a constant reminder of her outstanding obligation to her husband. Images culled from advertisements are cut into scenes, often at random intervals, reminding us of the pervasiveness of the culture that Charlotte lives in. These intrusions, however, never long distract us from Charlotte's decision, making Une Femme Mariée one of Godard's most approachable, conventionally plotted movies. It merges the director's interest in social constructs with a curiosity about individual emotions often obscured in his work.
79
Jeremy Heilman
07.22.09