Newest Reviews:
New Movies -
Abraham Lincoln: Vampire Hunter
Old Movies -
Touki Bouki: The Journey of the Hyena
The Strange Affair of Uncle Harry
Archives -
Recap: 2000, 2001, 2002, 2003, 2004 , 2005, 2006, 2007 , 2008 , 2009 , 2010 , 2011 , 2012
Loves of a Blonde (Milos Forman) 1965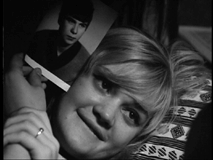 One of the seminal works of the Czech New Wave movement that occurred in the mid 1960ís, Milos Formanís brilliant Loves of a Blonde remains a thoroughly engaging and accessible movie almost forty years later. Set in overly militarized Czechoslovakia, the film tells a simple tale about a teenaged girl who works in a shoe factory as she latches onto a traveling pianist at a government sponsored dance, and ends up going to bed with him. From this simple premise, which at first appears at most to be an affectionate portrait of the lives that these characters lead, there emerges an unstated, but obvious, criticism of the Czech way of life and the rigidity of their morality. It questions how romance is meant to blossom in a state where love interests are doled out like meat or sugar (and with a ratio of sixteen women to each man, who can blame them?) and chastises the willingness of people to squash happiness in such a context. Thankfully, the polemic never becomes overbearing, as most of the film floats along with a buoyant sense of youthful optimism. Teenagers might be more given to heedless romantic notions, but a very real sense of hopefulness exists in their folly.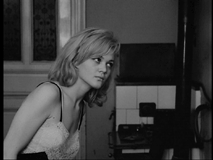 Forman somehow manages to craft comedy that neither veers from the challenges of realism nor reeks of shameless manipulation. With expert timing that could challenge the very best of American screwball, his razor-sharp observations of everyday life become increasingly comic as the movie progresses. A sequence near the beginning, set in the fateful dancehall, proceeds nearly wordlessly, but loses none of its emotional impact as a result. Mixing the performances of non-professionals with those by trained actors, he creates a seamless collection of characters that seem to take on allegorical weight as the film draws toward a conclusion. The lack of ostentatious camera tricks concentrates our attention squarely on the drama, and Forman never cheapens the action by allowing it to feel in any way stereotypical or by focusing on the titillating aspects of the plot. His attractive lead actors actually look their age, and their awkward, tentative lovemaking certainly is endearing. Overall, the sureness that the director shows here, in one of his earliest works, is quite impressive, and the film clearly ranks among his best. The surprisingly mature ending is just about as perfect as endings to films that we donít want to end can be, showing that sometimes an outright lie might be the only context in which hope can exist.

* * * * Masterpiece

04-25-02

Jeremy Heilman