Newest Reviews:
New Movies -
Abraham Lincoln: Vampire Hunter
Old Movies -
Touki Bouki: The Journey of the Hyena
The Strange Affair of Uncle Harry
Archives -
Recap: 2000, 2001, 2002, 2003, 2004 , 2005, 2006, 2007 , 2008 , 2009 , 2010 , 2011 , 2012
The Devil Rides Out (Terence Fisher, 1968)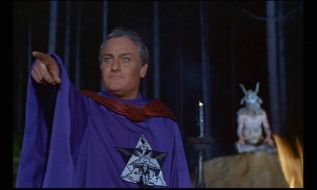 One of the best British horror films ever made, and certainly one of the Hammer Studio's best, Terence Fisher's The Devil Rides Out is an extremely efficient thrill ride into the macabre. It is as fast-paced a horror film as you will ever see, involving a group of heroes, led by a brave duke (Christopher Lee), who do battle with a coven of Satanists out to disrupt the balance between good and evil. Something like a dozen memorable set pieces are crammed here into a run time that is just over an hour and a half long, meaning that there are few moments of downtime. Even when the characters, in typical British fashion, settle down to share a brandy in a sitting room, the conversation doesn't stall the plot, but instead increases the sense of atmosphere, making the omnipresent threat of encroaching darkness all the more palpable.
The plot of The Devil Rides Out concerns not just a brief encounter with evil, but a full-fledged campaign against it. Séances, satanic orgies, summonings, car chases are presented over the course of the film, each of them presenting higher stakes than the last, all the while retaining a very British demeanor, including a smidgeon of self-deprecating humor. There's the sense that a grand, dangerous adventure is underway, and it is sustained from the first scene to the end. Throughout, Fisher shows a keen ability to slowly raise the level of tension as his scary scenes play out, to the point that they become nigh-unbearable. Then, time and again, the threat passes in a flash. As soon as the evil presence that menaces the heroes goes away, the episode takes on the feeling of a bad dream. While in the grip of terror, however, these nightmares will seem real to character and viewer alike.
The Devil Rides Out is also noteworthy in that it offers viewers a rare chance to see Christopher Lee as a good guy. The character he plays here, de Richleau, is vividly realized, and not a far cry from his Sherlock Holmes characterization, but he commands the screen with the ease. Like everything about The Devil Rides Out, Lee's performance is the work of a professional. The actor, as everyone involved in this production, treats what could be mindless pulp with utter conviction, elevating it considerably. With Fisher, arguably the auteur of Hammer Studios, behind the camera, and one of its top stars in front of it, the film works on all levels and truly earns its reputation as a classic of British horror.
83
Jeremy Heilman
06.28.10