Newest Reviews:
New Movies -
Abraham Lincoln: Vampire Hunter
Old Movies -
Touki Bouki: The Journey of the Hyena
The Strange Affair of Uncle Harry
Archives -
Recap: 2000, 2001, 2002, 2003, 2004 , 2005, 2006, 2007 , 2008 , 2009 , 2010 , 2011 , 2012
Five Easy Pieces (Bob Rafelson) 1970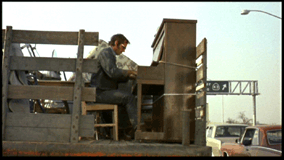 Iíd be tempted to call Five Easy Pieces, with its myriad scenes of familial reconciliation and wishy-washy male protagonist, a chick flick for guys, but there arenít many chick flicks that are this carefully observed and finely tuned. Featuring a top-notch performance by Jack Nicholson, as Bobby, a man who canít commit to much of anything out of fear of failure, the movie is subdued and intimate, even by Ď70s standards. As Five Easy Pieces begins, we find Bobby working as an oil rigger and living in a trailer park, but in his obvious dissatisfaction with the disappointments of his life, we start to imagine that thereís more than meets the eye to him. Itís no surprise then, when the frustrations of a traffic jam push him over the edge and set him on a personal odyssey that forces him to revisit his past and confront his demons.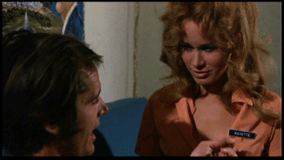 Itís to Five Easy Piecesí credit that it lets us see Bobby in the context that it does at the start of the movie before it begins to explain his behavior, and itís probably an even bigger achievement that it doesnít neatly wrap him up for our safe consumption by the end of the film. Bobbyís a drifter that occasionally settles down for a while, and he forces those that he meets to learn that in order to love him, they have to be willing to accept the fact that he might not always be there. Heís a coward underneath his brazen exterior, and itís his desperate attempts to hide that from the outside world that that make him endearing. Karen Blackís performance as Ray, his girlfriend, is so affecting mostly because sheís not bright enough to see through this faÁade, and, as such, she canít articulate her dissatisfaction with him. Initially, it might seem as if Nicholson is demonstrating only one emotion per scene, but by the pictureís end, it becomes apparent that there was always a dislocation of self underneath his grandstanding. His outbursts all hint at a deeper, very real, sense of alienated hurt.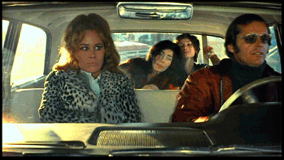 The movieís slightly grainy look captures the nostalgic feel of the film, and Rafelsonís direction is so unobtrusive that we barely notice his occasional tracking shots and arty compositions. Thereís a stunning amount of humor and heartbreak contained in Five Easy Pieces, which often seems endless in the possibilities of its human observation. Helena Kallianiotes has an unforgettable comic turn as a filth-obsessed, lesbian, hippie hitchhiker. Susan Anspach and Lois Smith are nearly as good in roles that are much more serious. Since the movie refuses to choose sides between Bobbyís past and present, it becomes far more rewarding than it would have been if it found something to blame for him turning out the way he did. This is surprising, since all along the movie felt as if it were meandering toward a great, universal truth. At its end, though, Five Easy Pieces hasnít given the audience many definitive answers, but in leaving things unanswered, it tells us more about Bobby, and ourselves, than anything definitive could.
* * * * Masterpiece
06-09-02
Jeremy Heilman