Newest Reviews:
New Movies -
Abraham Lincoln: Vampire Hunter
Old Movies -
Touki Bouki: The Journey of the Hyena
The Strange Affair of Uncle Harry
Archives -
Recap: 2000, 2001, 2002, 2003, 2004 , 2005, 2006, 2007 , 2008 , 2009 , 2010 , 2011 , 2012
The Homecoming (Peter Hall) 1973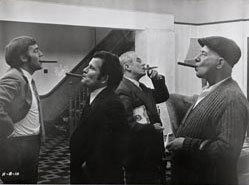 Based on a play by Harold Pinter, Peter Hallís masterful staging of The Homecoming is a family dramedy that courts absurdity to powerfully make its point. Since the film was made for producer Ely Landauís ambitious American Film Theater project, the movie isnít terribly cinematic (though the proliferation of sharp close-ups help us get closer to the actors), and the action takes place entirely on one simple set. Still, it manages to spin a fascinating tale of familial relationships that sticks with the viewer. It focuses on the fear that exists especially among those whoíve had a bad childhood that bringing home a loved one to meet the family might somehow reveal something repressed and result in a transformation of that love. At the playís start, Teddy (Michael Jayston), a successful professor of philosophy, and his wife Ruth (Vivien Merchant) return to Teddyís London home for the first time in nine years. The rest of Teddyís uncomfortably close-knit family, including his two brothers, the lecherous pimp Lenny and the vacuous boxer-in-training Joey (Ian Holm and Terence Rigby), his senile, belligerent, and bitter father Max (Paul Rogers), and his fey uncle Sam (Cyril Cusack), none of who have previously met Ruth, await them. The testosterone runs rampant in this household without a woman, and once Ruth arrives, her infusion of estrogen shifts the familyís dynamics immediately for the worse.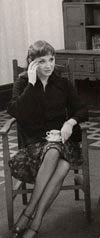 The family reunion becomes a macabre display, as Pinter puts dialogue in his castís mouths that suggests all ids have been checked at the door. The words spoken alternate between the superficial politeness that usually dominates this kind of reunion and the semi-psychotic, unspoken hang-ups that are stirring underneath. Everyone plays his or her character with a heightened, over-the-top performance, so that it soon becomes difficult to regain any sense of reality. If the play suffers at all in its adaptation to the screen itís in its failure to visually let the audience know that itís about to launch into a surreal caricature of domestic life. Even after the movie fades to black, when the image returns, the action is still set in the same sparely decorated room. The dialogue clearly makes its dreamlike intentions known though, and between its exaggerated macho posturing and the spasmodic body language of the actors, the film begins to resemble some kind of obscene slapstick comedy. As the film barrels toward its end, it manages to say something poignant and disturbing about the decorum that dominates the discussion in even the happiest of families, as well as snidely commenting on the way that people tend to attempt to distort the past so that it might better suit their needs. The Homecoming might be simple in its staging, but in a final tally, it overcomes its lack of cinematic device through its perceptiveness and stellar ensemble acting.

* * * *

07-29-02

Jeremy Heilman