Newest Reviews:
New Movies -
Abraham Lincoln: Vampire Hunter
Old Movies -
Touki Bouki: The Journey of the Hyena
The Strange Affair of Uncle Harry
Archives -
Recap: 2000, 2001, 2002, 2003, 2004 , 2005, 2006, 2007 , 2008 , 2009 , 2010 , 2011 , 2012
The Killing of a Chinese Bookie (John Cassavetes) 1976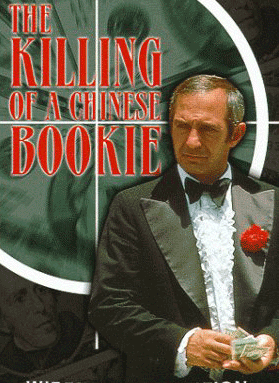 John Cassavetes' The Killing of a Chinese Bookie opens in a dimly lit strip club, where the girls play in a grotesquely bad burlesque. The players poorly sing and dance to "I Can't Give you Anything But Love", amidst a cacophony of catcalls from an audience that really only wants to see some flesh. Still, these girls feel they suffer for their art. The company seems convinced of their show's entertainment value, and they rally around the bar's supportive proprietor (Ben Gazzara). He's convinced that he has built his bar into something respectable, and takes a sort of pride in the endeavor. He uses his girls as an entry ticket into places he doesn't really belong. He's trying to pretend, like his girls, and like the thugs that he gambles with, that he's someone more than he actually is. It becomes apparent that everyone in this film is acting.
The movie is certainly much more accessible and plot-driven than the average Cassavetes. The film's improvisational feel works, since the main tensions of the film seem to arise when Gazzara's character is placed in situations, time and again, where people aren't saying precisely what the situation is about. Everyone dances around the subject at hand, even when all of the participants know what's going on, much like the girly show pretends to be a vaudeville act. Even Gazzara's character defines himself as an upright citizen ("I don't even buy alcohol from San Francisco!" he tells a group of gangsters) though he's clearly willing to cross the line. The film's nonspecific, off the cuff dialogue helps to capture the generally uncomfortable feel. Life under these circumstances is all about being an actor, so it's not at all stunning to find the protagonist has a secret past. The film's catharsis occurs when the characters set aside their personal needs and accept the actor's role completely. This is the opposite message of Cassavetes' A Woman Under the Influence, in which a sense of stability is only achieved when the characters stop acting, but it's equally effective as that film's ending. Many diverse ramifications of faking it are on display here, but the film ultimately seems to suggest that only by successfully projecting the image that people want to see can you retain the truth. So, even though this feels relatively streamlined by Cassavetes' standards, I thought it was eminently watchable, if not exceptionally profound.
* * *
October, 2001
Jeremy Heilman