Newest Reviews:
New Movies -
Abraham Lincoln: Vampire Hunter
Old Movies -
Touki Bouki: The Journey of the Hyena
The Strange Affair of Uncle Harry
Archives -
Recap: 2000, 2001, 2002, 2003, 2004 , 2005, 2006, 2007 , 2008 , 2009 , 2010 , 2011 , 2012
The Outsider (Bela Tarr, 1981)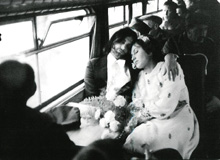 The Outsider, Hungarian director Bela Tarr's second feature film, has the distinction of being his most determinedly realistic film. One of only two color films that the director has made to date (the other being the heavily expressionistic chamber drama Almanac of Fall), that decision insures that it starts out as inherently less removed from reality than his other documentary-style features, all of which were shot in black and white. The camera is more stagnant here than in any of Tarr's other movies, the plot less structured, and the political content just as deftly inserted into the deliberately mundane subject matter. Tarr serves up a slice of life from the rootless existence of András, a Budapet man who divides his time between his violin playing, his carousing, and whatever job he happens to hold at the time. With such a shiftless protagonist, it's no wonder that the film that surrounds him is rather loosely thrown together. Tarr sometimes overplays himself at times, such as when he compares the mental hospital and the bar where András plays or when he reveals the consolation offered by a preacher to a mental patient as the ravings of an impostor madman. When slotted into a movie that's otherwise so naturalistic, such stunts don't work, even as they make the director's rage apparent.
Several major elements that run throughout Tarr's early work are present here including the dilapidated urban locales, celebrations that are interrupted, and the drunken community centers that seem to be the society's prime meeting place. There's a good deal of political observation throughout, specifically in the way that the proletariat view social change as something abstract until it's thrust upon them, but that doesn't keep The Outsider from being a somewhat turgid viewing experience. The movie is a bit of a chore to get through thanks to a series of interminable dialogue scenes (each lasting up to ten minutes long) that do more to establish mood and the aimless rhythms of the central drifter's life than to advance the viewer's understanding of his predicament or his motivations (or lack thereof). As the noncommittal András' family attempts to convince him to think of his and their future, the movie presents an honest look at his way of life and the ways that he fends off obligation, but that hardly seems enough. When the end of the film shows fate intervening and forcing András into a position where he must take action, it seems cathartic instead of outrageous. Because of its slim narrative and relatively unsympathetic protagonist The Outsider is probably the weakest of Tarr's films. There's little about it that makes it worth recommending to those who aren't obsessed with seeing everything that he's made.
**
02-25-03
Jeremy Heilman