Newest Reviews:
New Movies -
Abraham Lincoln: Vampire Hunter
Old Movies -
Touki Bouki: The Journey of the Hyena
The Strange Affair of Uncle Harry
Archives -
Recap: 2000, 2001, 2002, 2003, 2004 , 2005, 2006, 2007 , 2008 , 2009 , 2010 , 2011 , 2012
The Color of Money (Martin Scorsese, 1986)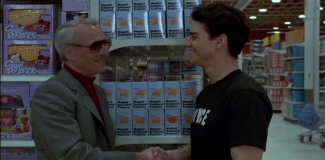 Pop and personal filmmaking collide in Martin Scorsese's The Color of Money, a slightly inferior sequel to 1961's The Hustler. Set twenty-five years after the first installment of the Fast Eddie Felson saga, this film has Paul Newman reprising one of his best roles to mixed effect. Though the actor is good here (especially in the film's first half), Scorsese places a bit too much baggage on his thinly conceived character's shoulders. Despite a generally solid script, there's been too little thought put into what Felson has been doing in the quarter century since we last saw him. Though we learn that he's become a booze peddler and retained the itch for pool, the sport that's been his passion, he might as well have been frozen in carbonite, Hans Solo-style, between the end of The Hustler and the start of this film. This feeling is exacerbated because Scorsese attempts to use Newman's advanced age to elevate his character's disappointments to the realm of high tragedy. It doesn't really work, and the moment the stakes are raised beyond the thrill of a win, the life seems to drain from the movie. Thankfully, though, for the bulk of the run time, The Color of Money still excels its intended terms as a sexy genre picture, mostly thanks to an energetic star turn courtesy of Tom Cruise.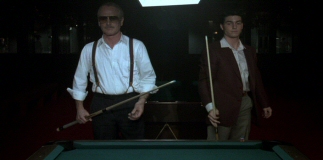 Cruise, in the best of his early performances, plays Vincent, Felson's cocky young protégé. He moves and speaks with the unguarded naiveté of someone who's never lost big, and when Vincent has his triumphant victory to the tune of "Werewolves of London" (a scene as classic as Cruise's Risky Business dance), you suspect that half the reason that Eddie is so infuriated is because the young man looks so vital doing it. The clashes between Vincent and Eddie, or unrepentant youth and sour wisdom, provide the film's life, and when a plot twist separates them, the toll on the film is short of disastrous, but still unwelcome. The cons and contests of the third act can't hold a candle to what's come before, and even though the final round plays nicely, avoiding the smell of fetid failure that hangs over Eddie during many of the concluding scenes, the damage has already been done. Scorsese, in his attempts to transcend his pop milieu, compromised it with inappropriate seriousness. If only the director was less intent on making The Color of Money a classic, it might have been a classic.

73

Jeremy Heilman

03-05-05