Newest Reviews:
New Movies -
Abraham Lincoln: Vampire Hunter
Old Movies -
Touki Bouki: The Journey of the Hyena
The Strange Affair of Uncle Harry
Archives -
Recap: 2000, 2001, 2002, 2003, 2004 , 2005, 2006, 2007 , 2008 , 2009 , 2010 , 2011 , 2012
Alice (Jan Svankmajer) 1988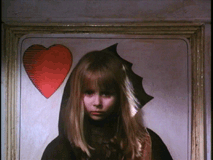 At once far more faithful to its source material than the popular Disney version, and farther from it in tone than one might ever imagine, master Czech animator Jan Svankmajer's Alice (Neco z Alenky) is a memorable and unique film experience, that feels strangely unlike anything else you've seen, even when it's at its most strangely familiar. Filmed in a decaying Wonderland that is filled with creatures that are as scary as they are surreal, the movie turns Carroll's novel even more explicitly into an examination of a young girl's psyche. The first moments of the film reveal the novel's opening, in which Alice lounges on a riverbank with her bookish sister, as an imaginary construct, and the rest of the story's adventures take on an acute sadness as a result. If this Alice has to invent even her boring sister, the creation of Wonderland seems a desperate cry for help from a profoundly lonely girl. The room that represents her reality is filled with sundry artifacts that all turn up later in her fantasy, and all along, we're reminded that the film is a dream, since whenever a character speaks, we see an extreme close-up of the girl's lips narrating the story. This approach results in an uneasy alliance with the movie, since we want to fall into the fantasy completely, but cannot ignore the functions that it serves to us as viewers since Svankmajer is always reminding us of its falsehoods.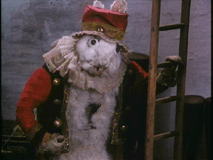 The presentation of Alice's fantasy itself is as boldly conceived as the film's setup. The movie is unabashedly indulgent in many of Svankmajer's recurring themes (visible in nearly all of his short and feature films), such as his obsession with routine and his dismissive observations of the process of eating. The act of eating always seems to be a fruitless exercise in self-preservation (since the food ends up exiting us anyway), and the food itself is usually fraught with hidden dangers (nails, bugs, and magic that makes Alice change in size). Most routines here are built upon the senselessness that Wonderland thrives on. That we're seeing an innocent girl questioning the sense of them makes them feel all the more irrational. Logic is applied liberally throughout, to the point where it be comes wholly illogical, and as a result the film seems to underline, with a child's guileless point of view, some of the nonsense that is inherent in our society's way of thinking. Most of all, though, these themes suggest the alienated Alice's growing dissatisfaction with the civilization that surrounds her dawning, but incomplete, realizations of how the world works, and provides what might be the reasons behind her retreat into a dream world. The movie becomes nothing less than then Buñuellian rant against the ills of consumerist society, but it never betrays Carroll's framework, which had a bit of a revolutionary spirit itself.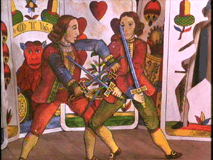 If Alice is never explicitly frightening, it also never becomes mundane enough that you can feel comfortable while watching it, but we probably shouldn't be complacent while viewing a portrait of a socially disaffected child. The jittery spasms of Svankmajer's creations and the general unattractiveness of Alice's surroundings make this a film that probably isn't appropriate for children, but the ideas that the movie is trying to get across would be over their heads anyway. Instead of dumbing down Carroll's novel, as Disney's animated feature did, Svankmajer tries to understand what it is that makes its youthful protagonist tick. If he doesn't seem to come to the same conclusions that Carroll did, he certainly makes a film that offers a compelling alternative reading. Also, since Alice is nearly free of dialogue, its American release represents one of the few instances in which dubbing doesn't noticeably detract from the viewing experience.
* * * 1/2
06-11-02
Jeremy Heilman