Newest Reviews:
New Movies -
Abraham Lincoln: Vampire Hunter
Old Movies -
Touki Bouki: The Journey of the Hyena
The Strange Affair of Uncle Harry
Archives -
Recap: 2000, 2001, 2002, 2003, 2004 , 2005, 2006, 2007 , 2008 , 2009 , 2010 , 2011 , 2012
The Puppetmaster (Hou Hsiao-Hsien) 1993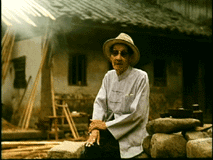 One of the most overlooked great directors, Hou Hsiao-Hsien seems to be finally getting his due in America. Hou's The Puppetmaster is a period drama that shows the life of a puppetmaster (no, not John Malkovich) residing in Taiwan in the early 20th century. The film integrates documentary interviews with its real life subject and fictional recreations of moments in his life. I'm not intimately familiar with the history of Taiwan, but I gather this film makes this man's life parallel it. Most of the film takes place during Taiwan's occupation by Japan, and the film shows the way that the Taiwanese people were forced to give up a great deal of their culture (making the oral histories that the puppetmaster tells that much more valuable.) His life is lived under various forms of oppression, yet the Taiwanese spirit remains unbreakable.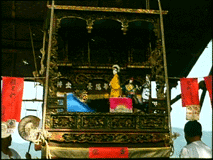 Hou's style in this film uses a mostly static camera. He allows us to see the rhythm of Taiwanese life as it actually was. We get to see several demonstrations of the puppetmaster's talents, and we get to see "behind the scenes" as he gets his job and learns the trade. The narrator is displaced from his family by a result of his choice in career (since he needs to live with his mentor) and the film has an overall sense of both personal and national loss. It's not a film that has a great deal of action, and the average shot's length can be measured in minutes instead of seconds, so the 2 1/2 hour running time may be tough for some to swallow. Nonetheless, there are several stunning shots and an overall impact that you feel at the end of the film that make it more than worthwhile.
* * * *
September, 2001
Jeremy Heilman