Newest Reviews:
New Movies -
Abraham Lincoln: Vampire Hunter
Old Movies -
Touki Bouki: The Journey of the Hyena
The Strange Affair of Uncle Harry
Archives -
Recap: 2000, 2001, 2002, 2003, 2004 , 2005, 2006, 2007 , 2008 , 2009 , 2010 , 2011 , 2012
In the Gloaming (Christopher Reeve, 1997)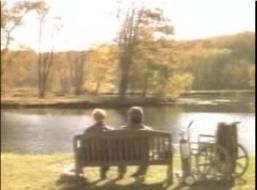 In the Gloaming, Christopher Reeve's sensitive made for television feature, aims to be the mother of all AIDS death dramas. Thanks to a thoughtful performance by Glenn Close as a matriarch who must come to terms with the loss of her child, it just might succeed. Sparely scripted, the finished product weighs in at a slim sixty-seven minutes. Much of the extraneous incident that usually bogs down this sort of film has been elided, resulting in a tearjerker that moves with precision toward its single-minded goals. Focusing more on heart-to-heart conversations and the feelings of anxiety and catharsis that surround the death of a loved one than plot, this character study sees prodigal son Danny (Robert Sean Leonard) returning to his bourgeois family's home to die from late-stage AIDS. Too close to his mother for his family's comfort, Danny is emotionally estranged from his father (David Strathairn) and sister (Bridget Fonda), who have never come to terms with his homosexuality. He faces his march toward death with only his mother at his side, despite his physical proximity to the rest of his family.
Reeve, who directed this film (his debut) after becoming a quadriplegic, turns AIDS into an obvious metaphor for his own brush with death. That might prove offensive for some, but to these eyes his restraint helps to universalize what was still a politically dangerous topic in 1997. His low-key work behind the camera results in a quiet, observational drama that seems to clearly understand how our mortality, when it becomes inescapable, forces truths upon us. The performances here, which are uniformly excellent, go a great way toward making what might otherwise seem sentimental ring true. Moments of bitterness, epitomized in Danny's pointed teasing of his mother or his sister's revelation of a lifetime of resentment, help to crystallize how families build emotional boundaries.
As In the Gloaming moves closer to the death that inevitably marks its ending, it eschews any expected histrionics. The respectful tone that dominates the film and the family's obvious wealth might avoid some of the unpleasantness of the average AIDS death, but it seems wrong to judge this film too harshly for settling on its chosen milieu. The resulting film, which includes what is surely one of Close's finest performances and a brief, shatteringly brittle turn from Fonda, is memorable mostly because it avoids most of the lapses that have come to dominate the diseases movie genre.
68
Jeremy Heilman
06.16.11