Newest Reviews:
New Movies -
Abraham Lincoln: Vampire Hunter
Old Movies -
Touki Bouki: The Journey of the Hyena
The Strange Affair of Uncle Harry
Archives -
Recap: 2000, 2001, 2002, 2003, 2004 , 2005, 2006, 2007 , 2008 , 2009 , 2010 , 2011 , 2012
Night Falls on Manhattan (Sidney Lumet, 1997)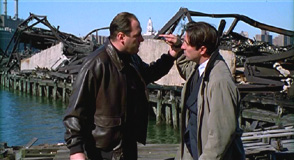 One of the most unfairly overlooked Hollywood films of recent years, Sidney Lumetís Night Falls on Manhattan marked a return to form for one of American cinemaís great moralists. Its relatively streamlined plot, which follows a young inductee (Andy Garcia) to the New York City District Attorneyís office as circumstances test his idealism, could easily fuel a forgettable potboiler, but thanks to a superlative ensemble, the filmís main theme, the unbearable anguish that comes with morality, is explored beautifully. The mood that dominates New York seems to course through Lumetís veins, and in the city, the director finds a microcosmic stage for humanity to play, on which kings, thieves, sinners, and saints can dwell, often within the same individual. After an intense action sequence kicks off the proceedings, the film settles down into a series of plot twists and conversations which paint the legal system as a succession of opportunities for personal gain for those in power. A wide array of characters emerges, each with vastly different motivations, and watching these richly conceived individuals bounce their ideals off one another provides the narrative engine here. By taking on political and police corruption, legal ethics, and race issues, and attempting to show each of these issues from a variety of perspectives, the film threatens to ruin itself with its ambition, but it scarcely falters. The complexity of the relationships and the coincidences that arise only enhance the theme that oneís moral decisions have an impact on the world that they inhabit.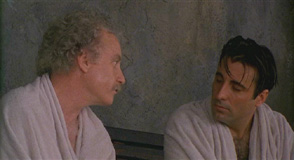 Few recent films have as consistently solid performances as this movie does, perhaps because Lumetís script allows for plenty of big, satisfying speeches. Still, even among the solid ensemble but there are standouts. Ron Leibmanís assertive, surprisingly kind District Attorney makes a strong impression, as does Iam Holmís put upon police officer, but the most impressive turn comes in a relatively small role courtesy of James Gandolfini, whose chip-toothed smile might be the most haunting image on display here. Andy Garcia delivers a satisfying turn in the lead role (even if he canít quite make us forget Pacino), peppering his characterís moral complexity with inspired flashes of humor and heart. The late scenes in the film, in which the actors recoil in disgust as their betrayers attempt to console them, are especially affecting because they only underline the trust that existed at the romanticized, naÔve, start of the story. Even with the ninety degree turns that Night Falls on Manhattanís narrative takes along the way, it remains a little predictable, but that hardly seems a detriment when the execution is carried off with this much aplomb.
* * * *
01-03-02
Jeremy Heilman