Newest Reviews:
New Movies -
Abraham Lincoln: Vampire Hunter
Old Movies -
Touki Bouki: The Journey of the Hyena
The Strange Affair of Uncle Harry
Archives -
Recap: 2000, 2001, 2002, 2003, 2004 , 2005, 2006, 2007 , 2008 , 2009 , 2010 , 2011 , 2012
The Winter Guest (Alan Rickman) 1997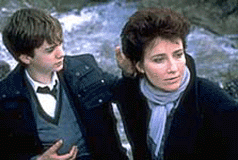 The Winter Guest, Alan Rickman's debut feature, outwardly appears to be the sort of Oscar-friendly movie that Lasse Hallström has begun churning out each year for Miramax. It's set in a picaresque small Scottish town, and is ultimately about people being made to come out of their emotional shells. The big exception here is that The Winter Guest, unlike something like Chocolat, actually manages to be good. The film, which takes place entirely during one wintry day and focuses on four pairs of people, stars Phyllida Law and Emma Thompson, who are mother and daughter in real life, as Elspeth and Frances, a mother and daughter who have a close but troubled relationship. Law's performance as Elspeth is especially good, and it has the same mixture of stubbornness and tough love that have marked much of Judi Dench's work lately, but it has none of her condescension. Elspeth is proud to be a member of the community she's in. She's not smug at all, even if she's not afraid to bluntly state what she likes. Her daughter is in a bit of a funk ever since her husband died, and Elspeth's way of obliquely pulling her back into the world is clearly borne out of love. She's interesting because she realizes her daughter thinks she is shrill, and uses that shrillness to provoke a response from her daughter. She knows that Frances might resent her antagonizing, but Elspeth believes her daughter needs to start feeling again somewhere, even if it begins with disgust for her mother.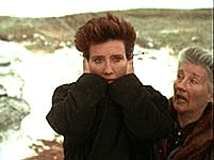 Though their relationship is the one in the film with the most at stake, all of them are interesting. Each one of them finds a duo of solid actors as they discuss their places in life. The Elspeth / Frances pairing is noteworthy as it is the only one that crosses generations. Also shown are two old women that head to an out of town funeral, which is one of many they have scheduled for the week, and a pair of youngsters that grow increasingly nervous as their flirting escalates (Arlene Cockburn is excellent here as Nita, a tomboyish girl). The least successful moments in the film focus on two young adolescent boys that decide to skip the day's classes. Their performances are fine, but their dialogue is constantly shifting from the profane to the profound. There's little in between those extremes in their characterizations, and they feel less real than the others do as a result. Still, the film's modest goals are met, and the austere technical aspects of the production further preserve the film's reserve. It's a shame this film seems to be relatively unknown and it would be a greater shame if Rickman was never to direct a feature again as a result.

***1/2

12-12-01

Jeremy Heilman