Newest Reviews:
New Movies -
Abraham Lincoln: Vampire Hunter
Old Movies -
Touki Bouki: The Journey of the Hyena
The Strange Affair of Uncle Harry
Archives -
Recap: 2000, 2001, 2002, 2003, 2004 , 2005, 2006, 2007 , 2008 , 2009 , 2010 , 2011 , 2012
Millennium Mambo (Hou Hsiao-hsien) 2001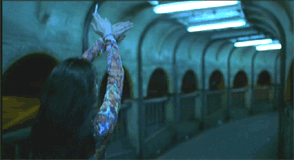 The slow-motion opening shot in Hou Hsiao-hsienís Millennium Mambo tells us much about the mood of the film. Vicki (a superb Qi Shu), the young protagonist, is seen moving down a hallway as a techno-beat thumps along in the background. She looks back occasionally as she moves, alternating her stride occasionally with a bit of a dance. When she nears the end of the hall, the camera stops, but she keeps going, and we watch as she shuffles away. This pre-title sequence sets the trajectory for the rest of the film, in which we follow Vicki as she moves closer to the maturation that she thought she already had. Unlike most coming of age films, Millennium Mambo is wise enough to realize that there isnít some magical epiphany in which a character instantly moves from childhood to adulthood.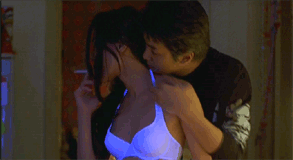 The film is set in 2001, but is narrated by an unnamed narrator who has gained a sense of wisdom and hindsight about the situation that the young Vicki clearly lacks. The narrator refers to Vicki in the third person, but she might very well be an older Vicki that has grown to such an extent that she considers herself a wholly different individual. Most of the film finds this younger Vicki immersed in a toxic, youth-oriented atmosphere. Thereís always the distraction of a television, a cell phone, a videogame, or the ever-present soundtrack to keep her from any sort of introspection. The constant immersion in media has turned her into an adult prematurely. We find that she began having sex and doing drugs at the age of sixteen. Worse yet, sheís involved with Hao-Hao (Chun-hao Tuan), an abusive, overbearing young punk that moves from his turntables, to his videogames, to her bed expecting the same sort of instant gratification. Their series of breakups and reconciliations makes up much of the filmís narrative. Watching Vicki as she becomes increasingly tired of his immature behavior, we can see the first real stirrings of her emotional development, and since Hao-Hao is such a sleaze, itís an immensely gratifying process.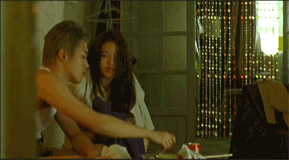 We might initially think that the Mambo of the title is between Vicki and her boyfriend, but by the filmís end, it becomes apparent that sheís dancing by herself, gracefully soft-shoeing between mature and immature. Qi Shuís performance as Vicki is amazing, especially considering the exceptionally long takes that Hou uses in shooting the film. She never seems so confident that we feel her journey is over, but she also remains far enough from meek that she can garner our respect. Even after she finally leaves Hao-Hao, and moves into the eerily quiet apartment of an older mobster friend, she still doesnít seem a perfect fit for the adult world. In one scene we see Vickiís complete incomprehension of the gangster talk that surrounds her. She may have aged a bit, but she still is a stranger to the responsibilities of adulthood.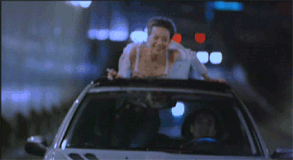 Itís almost tragic that Vickiís environment encourages her rapid growth, but itís an unfortunate side effect of the modern times that she inhabits. Hou has covered this material from a male perspective before in his Goodbye South, Goodbye, but Millennium Mambo, which echoes that film most explicitly in its rapturous car-bound scenes, offers a more optimistic, gentler prognosis for the problems of todayís youth. Since Vicki and her friends arenít nearly the thugs that the characters from Goodbye were, they are much easier to relate to and sympathize with. As a result the film seems almost upbeat, since it allows us to understand the attraction to the lifestyle that the youth culture engages in. This is quite unlike the zombie-like trance that the technology created in the characters in Houís last modern film. It doesnít hurt matters that the filmís even more beautiful than Goodbye was either. Mark Lee Ping-bin, who shot both films, is quite simply the greatest cinematographer in the world today, and the mixture of neon colors on display in each of Houís extended takes is jaw-dropping. Without a doubt, though, the most gorgeous image in the film occurs about midway through when Vicki takes a short trip to snowy Japan. She and a friend, while frolicking outside, press their faces into a snow bank. We are shown the impression that her face makes in the snow, and understand at once the flowing, intangible nature of self. The filmís message is simple, but beautiful: any impression that we have of Vicki in a given time is a transient thing, as likely to evaporate as that molding of her image.
* * * *
05-10-02
Jeremy Heilman