Newest Reviews:
New Movies -
Abraham Lincoln: Vampire Hunter
Old Movies -
Touki Bouki: The Journey of the Hyena
The Strange Affair of Uncle Harry
Archives -
Recap: 2000, 2001, 2002, 2003, 2004 , 2005, 2006, 2007 , 2008 , 2009 , 2010 , 2011 , 2012
My Sassy Girl (Jae-young Kwak) 2001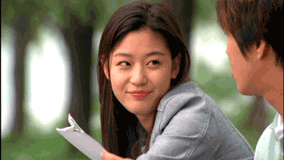 Divided into two disparate parts, Jae-young Kwak's My Sassy Girl starts out as a seemingly typical gross out comedy, but it improves greatly as it proceeds. Based on a real-life anonymous online diary, this South Korean movie tells the story of Kyun-woo (Tae-hyun Cha), an average, aimless college student who gets shoved into a relationship with a bossy, overbearing, and unnamed girl (Ji-hyun Jun) after he's forced to accompany her home after she gets drunk and vomits on a subway passenger. Most of the film's early scenes mine laughs as they place Kyun-woo in embarrassing situations, and the film here resembles a descendant of the great slapstick comedies. We watch as Kyun-woo's new girlfriend repeatedly humiliates him (any time he crosses her, she smacks him and asks threateningly, "Do you wanna die?"), but he tells us in his narration that he continues to pursue her since he suspects there is an undercurrent of goodness in her. During this segment of the movie, Kyun-woo is thrown in prison a few times, taken hostage, and publicly embarrassed because of his involvement with the girl. Since the girl is an aspiring screenwriter, we also imagine the two in several humorous parodies of popular film genres, such as the Terminator-style action movie, the Korean melodrama, and the wu-xia film. These early scenes are engaging, but hardly revelatory, since they spend as much time trudging through clichés as overcoming them with inventiveness.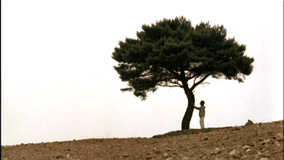 It's only the second half of the film, which suggests there's a real emotional element to their relationship that was only hinted at in the first half, that My Sassy Girl really takes off. The film becomes much less scattershot as it begins to find the heart in the girl that Kyun-woo suspected was there all along. The movie veers toward the melodramatic, as it trots out a series of surprises and coincidences about her past, but it remains surprisingly poignant nonetheless. The sense of longing that arises suggests that much of the conflict between them in the first half of the film was born out of a combination of their reluctance to get burned by a soured relationship and their unshakable desire to be in one, and the shift in gears in downright touching. Whatever small flaws might exist in My Sassy Girl, the charismatic leads make it more than worthwhile. Jun, in particular, gives a terrific performance. She's as lively and impudent as the title suggests, and she exudes star power whenever she's on screen. Apparently, My Sassy Girl is slated to be remade by Dreamworks. Here's to hoping the producers of the American version of this special movie realize what it is about it that made it the top-grossing comedy ever in South Korea.
* * * 1/2
06-03-02
Jeremy Heilman