Newest Reviews:
New Movies -
Abraham Lincoln: Vampire Hunter
Old Movies -
Touki Bouki: The Journey of the Hyena
The Strange Affair of Uncle Harry
Archives -
Recap: 2000, 2001, 2002, 2003, 2004 , 2005, 2006, 2007 , 2008 , 2009 , 2010 , 2011 , 2012
Group (Anne de Marcken & Marilyn Freeman) 2002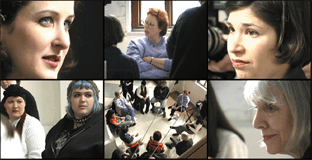 Itís inevitable that the digital video revolution will bring forth a boatload of low-budget features, some of dubious quality, but a film like Anne de Marcken and Marilyn Freemanís Group suggests that that future might not be as dim as feared. Using multiple cameras to film a series of mock group therapy sessions, Group examines the issues that keep women from achieving personal happiness with infinitely more care and humor than lame-brained Hollywood efforts like The Divine Secrets of the Ya-Ya Sisterhood. With its riotgrrl aesthetic in tow (appropriate, since Sleater-Kinney frontwoman Carrie Brownstein is among the groupís participants), this Seattle set picture shows us that there might be a little of that mentality in every woman, and its cast covers nearly every imaginable female demographic from conservative Christian to bisexual punk rocker. Thankfully, while building these women up, the film never compromises them. Thereís next to none of the unnecessary plot machinations found in most chick flicks, since these women enter the sessions with their problems in tow, leaving the focus here strictly on their character development. An unusual sense of intelligence abounds here, and after one gets over the initial skepticism that some of these women would return for a second meeting, the film settles into a series of surprisingly tense improvisational scenes that doesnít rely on shocking revelations so much as the natural dynamics that result when these disparate characters interact with each other.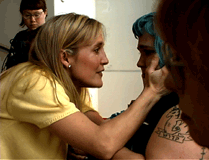 Groupís directors use its digital video smartly, and employ Timecode-style split screens to show us simultaneously a speakerís speech and the reaction of the fellow group members. Often, the extra cameras focus on the hands and body language of the actors and reveal things that their faces donít. Less successful are the frequent musical interludes, which are rather ineffective at deepening our understanding of the characters (one montage shows a character as she walks to a bench, pets a dog, eats a sandwich, then walks away in slow motion), even though they provide the only glimpses that we get of these people outside of their sessions. As for the therapy sessions themselves, they are fascinating and exceptionally well-acted, especially in the cases of Tony Wilkerson, who plays a compassionate nurse with a paraplegic fiancť, and Carrie Brownstein, who is devastated when her father has an affair with someone her age. I could have easily sat through another hour of this groupís sessions (luckily, the filmís web site http://www.groupthemovie.com offers a multitude of extra scenes, another advantage of its digital roots). The surprising skill and compassion that Groupís makers exhibit turns what could have been an uninvolving actorís exercise into a compelling and complicated emotional stew.

* * * 1/2

07-04-02

Jeremy Heilman