Newest Reviews:
New Movies -
Abraham Lincoln: Vampire Hunter
Old Movies -
Touki Bouki: The Journey of the Hyena
The Strange Affair of Uncle Harry
Archives -
Recap: 2000, 2001, 2002, 2003, 2004 , 2005, 2006, 2007 , 2008 , 2009 , 2010 , 2011 , 2012
Monrak Transistor (Pen-Ek Ratanaruang, 2001)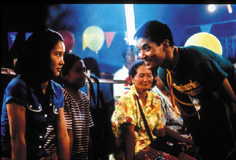 If, as some would have the world believe, there is a movement in the suddenly hot modern Thai cinema worth noting, and if Pen-Ek Ratanaruang's Monrak Transistor is meant to be one of the films of the movement that matters (which would make sense since it was the country's Academy Awards submission for Best Foreign Film this year), then one has to be immediately suspect of said movement. Though by no means a truly bad film, Monrak Transistor is not the stuff cinematic revolutions are made of. For one thing, it is nearly undistinguishable from many domestic releases in its glossy style and its inconsistent tone. Intermittently enjoyable segments punctuate the generally underwhelming monotony of this scatological would-be musical. There's a terrific and slick chase sequence, a few enjoyably colorful dancing scenes, and a sweet-natured romance that swerves into unwanted emotional realism somewhere along the way. At its best, its ability to show the mixture of influences upon its culture carries with it a whiff of Edward Yang's brilliant A Brighter Summer's Day. At its worse, it veers too far into Farrelly Bros. territory.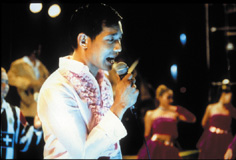 Monrak Transistor's Thai setting provides a backdrop in which a great contrast between poverty and affluence exists, and that provides greater strata along the blank hero's rise and fall, even though the film somewhat facilely dismisses them all. He moves from being a content farmer to being an aspiring pop idol, to being a fugitive on the run to being a prisoner, guilty of a petty crime. Every change in his social standing brings with it another set piece criticizing the group he's surrounded by, and some of the films stunts work more than others. The most inspired one, for example, has a Thai movie audience watching the Thai sensation Tears of the Black Tiger with a translator, as if it were a foreign film, presumably because that movie is so stylistically different from other Thai movies. That film's plot is horribly and humorously mangled in the translation, but the audience still laps it up, unconcerned with what they're missing. There exists a pessimistic strain throughout that seems to suggest that country's poor will always be exploited (seemingly with complicity) by those with even a little more power by them, but any force that such a message might have gleamed from its simplicity is essentially negated by the constant flashbacks to the hero's absurdly ill-developed, long-suffering wife. In a final shakedown, it's the lack of conviction to the importance of its own message that keeps Monrak Transistor from carrying any weight. Its considerable directorial sprightliness can't disguise its lack of a brain.
* * 1/2
02-15-03
Jeremy Heilman