Newest Reviews:
New Movies -
Abraham Lincoln: Vampire Hunter
Old Movies -
Touki Bouki: The Journey of the Hyena
The Strange Affair of Uncle Harry
Archives -
Recap: 2000, 2001, 2002, 2003, 2004 , 2005, 2006, 2007 , 2008 , 2009 , 2010 , 2011 , 2012
Secretary (Steven Shainberg, 2002)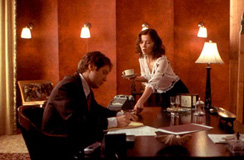 Itís not just Angelo Badalamentiís score that tips off the audience that theyíre entering territory that David Lynch seems to have already staked out while watching Secretary. The set design, peppered with a combination of suburban blandness and the antique weirdness of the law office in which most of the film plays out, seems as if it was cobbled together from Blue Velvetís leftovers. The mannered performances are either wildly over the top or almost catatonic, giving the impression that the characters are somewhat lost in their dreams or their inability to achieve them. The problem with paying homage to a vision as unique as Lynchís is that itís tough to top a master at his game. David Lynch films, for all their grotesque flourishes, manage to create a tactile enough atmosphere that itís undeniable that someoneís obsessed over the sordid details. That obsessiveness makes the film attractive, even if the thing being photographed is ugly. Director Steven Shainberg doesnít seem so fixated on his S&M fantasy that the energy becomes attractive. As such, the audience, who probably wonít share the fetishes of the main characters, will probably find it difficult to see the attraction or even be sure that the attraction is felt intensely by those characters. Even as the stakes are raised in Secretaryís sexual give and take, the movie retains its detached, private mood.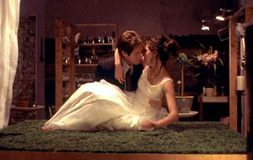 Secretary won a special prize at the Sundance film festival for its ďoriginalityĒ, but perhaps that originality is what keeps it from feeling sufficiently inclusive. Iíd never call David Lynch unoriginal, but his films are chock full of imagery that seems to have been chosen so that it can to trigger of the collective conscious. Nothing in Secretary feels eerily familiar. Itís too abstract for its own good. If the film played out in a realm even resembling reality, its character arcs might have some sort of emotional resonance, but the stylization used does more to make the material safe than it does to heighten its themes. Certainly the exclusivity thatís exuded here hammers home the point that oneís sexuality is an individualized thing, but that point barely makes watching someone elseís fantasy more exciting. Neither of the lead performances, which come courtesy of Maggie Gyllenhaal and James Spader, is charismatic enough to draw us in. The oddball supporting cast, which includes a spastic Jeremy Davies and a ghastly Lesley Ann Warren, doesnít help either.
* *
Jeremy Heilman
12-08-02