Newest Reviews:
New Movies -
Abraham Lincoln: Vampire Hunter
Old Movies -
Touki Bouki: The Journey of the Hyena
The Strange Affair of Uncle Harry
Archives -
Recap: 2000, 2001, 2002, 2003, 2004 , 2005, 2006, 2007 , 2008 , 2009 , 2010 , 2011 , 2012
American Splendor (Shari Springer Berman & Robert Pulcini, 2003)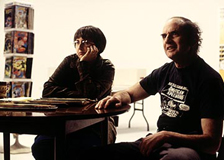 Casting itself at first as an antidote to the overly sentimental strains of Hollywood melodrama, American Splendor eventually succumbs to formula and a facile treatment of its hero's fight with cancer (think montage). Warning signs start to crop up around midway through the film, when its curmudgeonly comic-book protagonist Harvey Pekar (Paul Giamatti) meets his wife-to-be Joyce (Hope Davis). Suddenly the film, which has up until that point somewhat inventively incorporated documentary footage of the real-life Pekar and meta-moments that took care to remind us that Giamatti's fictionalized world isn't to be mistaken for the real thing, becomes a lot more conventional. Joyce and Harvey play cute for a few scenes, acting like oddballs in a Cleveland that seems to be entirely populated by oddballs. It's worth noting that these scenes are probably the most enjoyable in the film (they are the only ones that really strike a balance between the cynical and maudlin), but they set a tone that doesn't really fit as the movie moves beyond their brief courtship and into more serious concerns about their long-term viability and Harvey's willingness to sell out as an artist. Before long, American Splendor blooms into a full-blown message movie with a cynical chaser that's supposed to make us forget the previous half-hour of corn. It expects us to buy precisely the sort of uplift that Harvey so hilariously eviscerates about an hour later after a screening of The Revenge of the Nerds with one of that masterwork's biggest fans.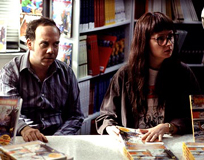 I suppose the growth that Harvey exhibits during American Splendor is preferable to a holding pattern that would have maintained the mood of his introduction (a rather worrisome two-shot that equates the childhood Pekar who grumbles to himself, "Everyone is stupid," with the fully grown adult version of the same), but it still feels like something of a con. Essentially the movie asks us to celebrate Pekar for at least partially growing out of the mood that we're celebrating him for in the first place. Early on, the real Pekar is asked by an off-screen narrator if he's read the script to the movie. He notes that he really hasn't. I can't imagine that if he lives up to the persona that the movie presents, he'd be too thrilled with the results. "I'm no show biz phony – I'm telling the truth," Pekar protests during a disastrous stint on the Letterman show, which still might be the case at the film's end, but if Pekar has reached the point where he thinks lazily observed homilies are truth, why are we still listening to him?
44
09-20-03
Jeremy Heilman