Newest Reviews:
New Movies -
Abraham Lincoln: Vampire Hunter
Old Movies -
Touki Bouki: The Journey of the Hyena
The Strange Affair of Uncle Harry
Archives -
Recap: 2000, 2001, 2002, 2003, 2004 , 2005, 2006, 2007 , 2008 , 2009 , 2010 , 2011 , 2012
Bringing Down the House (Adam Shankman, 2003)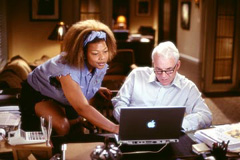 The characters in Adam Shankman's sometimes questionable Bringing Down the House spend so much time marveling at nonchalant displays of "cool", that it's bound to make most audience members feel like a stick in the mud, even if it's not that hip itself. The film, which motors along powered by an extremely thin Internet-fueled case of mistaken identity, wastes more time featuring characters that assert their cool than it does having them demonstrate it to be sure, but since the movie takes place in such a wildly exaggerated version of Los Angeles, that hardly matters. It almost seems churlish in light of its considerable good cheer to complain that the script only seems politically correct because it inflates the racist tendencies of its cast of characters or to whine that a supposedly cuddly scene in which Queen Latifah's ex-con Charlene teaches an eight-year-old boy to read using a magazine from his father's porn collection is a bit morally disturbing. Combining equal parts from co-star Steve Martin' zany vehicle Bowfinger and Warren Beatty's racially tinged political satire Bulworth, the movie offers a messy stew that's inferior to either, even as charisma ensures it comes across better than most recent big-budget comedies.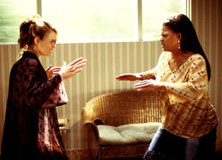 Though House is poorly directed (a disappointment after Shankman's decent work in A Walk to Remember), it succeeds more than it fails thanks to a collection of superb comic performances. The central oddball comic pairing generates as many laughs as one might suspect. Queen Latifah, hot off the success of her Oscar-nominated role in Chicago (which seems to be justified mostly because the Academy failed to recognize her work in Living Out Loud) is much better here, exhibiting intelligent humility at every opportunity by allowing the joke to be on her. Martin, her co-star, is given fewer opportunities than usual to demonstrate his considerable skills as a physical comedian, but when he does, he proves himself a better talent than any of his contemporaries. Supporting turns from such unlikely actors such as a scene-stealing Joan Plowright, Eugene Levy, and Betty White are equally fine. Many of the best gags here are throwaway ones, delivered with an offhandedness that makes them work, but even the large set pieces, most notably an extended Tae-Bo battle, inspire some chuckles. The film only truly stumbles as it enters into its plot-heavy third act, which wastes a lot of energy, but still can't manage to satisfy the audience's desire to see Latifah and Martin fall in love.
* * *
03-07-03
Jeremy Heilman