Newest Reviews:
New Movies -
Abraham Lincoln: Vampire Hunter
Old Movies -
Touki Bouki: The Journey of the Hyena
The Strange Affair of Uncle Harry
Archives -
Recap: 2000, 2001, 2002, 2003, 2004 , 2005, 2006, 2007 , 2008 , 2009 , 2010 , 2011 , 2012
The Fighting Temptations (Jonathan Lynn, 2003)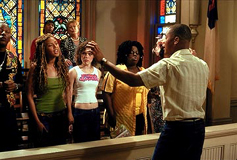 The Fighting Temptations, the new comedy from director Jonathan Lynn (My Cousin Vinny, Clue), might be formulaic, but it uses its formula in a way that's tough to deride. Consider for example, the way that the inevitability of its plot and presence of its supporting cast pretty much steamrolls over the fact that Cuba Gooding Jr. isn't very good in his leading role as Darrin, an ad man who finds himself when the death of his aunt forces him into a stint as the director of a Georgia church choir. It's certainly treading familiar territory when it shows Darrin assemble his choir out of people young and old, ensuring the film a chance to appeal to every demographic (he recruits both prisoners and Rue McClanahan), but it allows the opportunity for a great deal of good cheer and a few hearty chuckles. Co-star Beyonce's presence as a lounge singer who gets converted to Darrin's cause makes for a predictable romantic lead (made more auspicious by the presence of Pepsi in the background whenever she's in the frame), but she is charismatic enough that she doesn't seem bothersome. She gets a chance to sing too. Almost predictably, she belts out an unfortunately chaste rendition of "Fever" followed by a "Swing Low Sweet Chariot" that naughtily appeals to secular side in all of us. The plot is essentially a reheated Sister Act with Cuba in the Whoopi role, and as such it's unfortunate that the revelation of Darrin's true intentions takes an unbearably long time to come about. Fortunately, the movie becomes something interesting when that revelation sets up an unexpected message scene.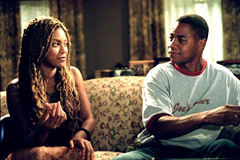 Early scenes in The Fighting Temptations show the cash-strapped Darrin kissing his maxed-out credit cards for luck before he attempts to get a cash advance at the ATM and dodging creditors. Living in New York City, he seems to have it all, but we learn that his lifestyle is fraudulent and spiraling out of control. The movie even goes so far as to create a threat of creditor showing up and outing him in front of the choir, who believe he's a famous record producer, even though one never actually materializes. Before his triumphant third-act return to his choir, Darrin makes a brief trip back to the city to give a boardroom of advertising executives a dubious PowerPoint presentation that argues that the urban lifestyle is based on the accumulation material possessions, and therefore bad. Similar to last year's hit Barbershop, there's a conservative vibe running throughout The Fighting Temptations that seems to stand in direct opposition to the hip-hop culture that dominates most of the portrayals of African Americans in mainstream cinema (making the decision to cast Beyonce, who has a song entitled "Hip-Hop Star" on her latest CD, baffling). While Fighting is nowhere as preachy as that film was, which is surprising given the backdrop of the church, it draws a line in the sand that separates it from most modern Black Cinema. It's problematic thesis, though, since the movie contains too much fawning celebrity presence (Steve Harvey, Faith Evans essentially play variations on their existing public personas) for a film that's telling us our desires to be famous are utterly misguided. Ideological confusion aside, The Fighting Temptations manages to remain a fairly lively slice of family entertainment throughout. The lack of gross-out moments is refreshing, as is the way that it never sacrifices its character-driven plot to a discordant comic set piece. Thankfully, it also manages to skip over a lot of obvious scenes of self-realization, leaving a movie that feels more focused on entertaining than edifying. I wasn't exactly dancing in the aisles during The Fighting Temptations, but at the same time, watching it didn't feel like atonement.
49
09-22-03
Jeremy Heilman