Newest Reviews:
New Movies -
Abraham Lincoln: Vampire Hunter
Old Movies -
Touki Bouki: The Journey of the Hyena
The Strange Affair of Uncle Harry
Archives -
Recap: 2000, 2001, 2002, 2003, 2004 , 2005, 2006, 2007 , 2008 , 2009 , 2010 , 2011 , 2012
In the City (Cesc Gay, 2003)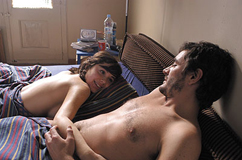 Cesc Gayís In the City is a rather slight movie if I ever saw one, but that doesn't mean it's not an enjoyable one. This talky comic drama traces the romantic escapades of about a dozen or so characters in modern-day Barcelona to little effect. Though leagues better than the last Spanish-language sex romp that I saw (the dismal The Other Side of the Bed), it is so blandly targeted at the upper-middle class urbanite that it always fails to excite. It might be upscale, but it's a bit stale. Laughs are few and far between here, and dramatic confrontation is even rarer. Most of the ďbigĒ scenes take place off-screen, and while that approach avoids melodramatics, it also avoids dramatics too. Itís almost amusing that it thinks itís being edgy when it has one of its characters, who happens to be a housewife, act upon her lesbian tendencies, but it saves itself from embarrassment by keeping most of the titillating details of the affair out of our sight. The entire movie, which features easy listening on the soundtrack and well-timed fades to black at the end of its sequences, shoots for a jazzy ambiance that it has trouble maintaining.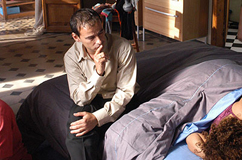 In the City an attractively lit film with good-looking people coping with issues of infidelity of both emotional and physical types, and it manages to be pleasant even though it is awfully trite at times. To demonstrate peopleís loneliness, Gay shoots his characters as they eat dinner alone or come home to find no messages waiting on their answering machine. When a character finally tries to sum up the movie'í point of view, he stammers, "Relationships are... I don't know." That sort of inconclusiveness is probably preferable to definitive answers in a broad-ranging movie like this, I suppose, but sometimes thereís not much space between not overstating yourself and not stating much at all. Essentially, it makes the talky French comic drama The Taste of Others look like a thrill ride, and thatís a feat I would have thought impossible before now. Among the cast, Monica Lopez and Maria Pujalte make strong impressions, the former by being tightly-wound but still likable, and the latter by being unconventionally sexy despite being somewhat despicable. For all its moment-to-moment flaws, when itís all said and done, In the City has done a credible job of demonstrating how one can be in a relationship and still feel lonely. With the talent that Gay demonstrates here, however, one canít help but wish it tried to do a bit more.
46
09-15-03
Jeremy Heilman