Newest Reviews:
New Movies -
Abraham Lincoln: Vampire Hunter
Old Movies -
Touki Bouki: The Journey of the Hyena
The Strange Affair of Uncle Harry
Archives -
Recap: 2000, 2001, 2002, 2003, 2004 , 2005, 2006, 2007 , 2008 , 2009 , 2010 , 2011 , 2012
Japanese Story (Sue Brooks, 2003)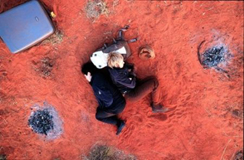 It's probably best for any viewer to see Sue Brooks' twisty Japanese Story without knowing anything about it in advance, with the possible exception that Toni Collette gives yet another superb performance, demonstrating range that one wouldn't necessarily expect, given the material that she's been presented with. The film is blessed with a screenplay that keeps moving in unexpected directions, with each new sequence belying the promise of what's come before without quite betraying it. It dredges up feelings that are later stymied by unforeseen developments, but not forgotten, and as a result, the plot snowballs into a surprising, but genuinely moving, denouement. Because of this, despite its moment-to-moment directness, it presents a great challenge for its lead actress to remain consistent in the many permutations her character is seen in. Collette is required to be apathetic, astringent, amusing, anguished, and alluring, and against the odds, never missteps. As it morphs from comedy of manners to road movie to survivalist adventure to woman's picture and beyond, Japanese Story momentarily recalls both contemporary movies such as Gerry, Twentynine Palms, and Lost in Translation, and older fare like Walkabout and Out of Africa, but ultimately is too idiosyncratic a contraption to bear any direct comparisons. Needless to say, the movie is better for it, even if the place where it finally lands might be a tad bit underwhelming (if undeniably heartfelt).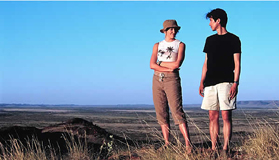 As Japanese Story opens, sour geologist Sandy (Collette) is goaded into an agreement to chauffer Hiro (Gotaro Tsunashima), the Japanese son of a prospective investor, around the Australian outback on a trip that seems to have no practical purpose. The first few scenes of the movie make much of Sandy's half-hearted efforts to bridge the cultural gap that exists between her and Hiro, often to amusing effect. Reluctantly assigned as Hiro's driver and tour guide, Sandy makes a few stabs at connection with the man, but treats their relationship as something to be endured. As they retreat further the wilderness, their cultural misunderstanding of one another is only further underscored. It's at that point that the movie begins to take on more resonant attitudes toward its subject matter. Their wildly different attitudes toward to the land that they traverse and modes of crisis management they employ become points of contention as events take a turn for the worse. The attitudes that resulted in trivial annoyances between the two, such as his arrogance and her ignorance of his ways, become obstacles to their survival and understanding of one another as the stakes are raised on every level. By the end of its tale, Japanese Story has outgrown its unassuming premise and taken the audience on an emotional journey that is all the more affecting because of its serendipitous nature.
66
Jeremy Heilman
01-05-04