Newest Reviews:
New Movies -
Abraham Lincoln: Vampire Hunter
Old Movies -
Touki Bouki: The Journey of the Hyena
The Strange Affair of Uncle Harry
Archives -
Recap: 2000, 2001, 2002, 2003, 2004 , 2005, 2006, 2007 , 2008 , 2009 , 2010 , 2011 , 2012
The Top Ten Films of 2004*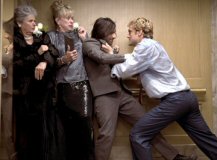 10. I ♥ Huckabees – Director David O. Russell harnesses the best ensemble of the year in a consistently funny hodgepodge about the confusion of modern living. Presenting a sunny but trenchant vision of a modern America that's become a bright purgatory where gratification stops being gratifying, this pseudo-screwball comedy addresses modern ennui without becoming mired in it. Considering the confusion that I often feel when I look at the world around me, I'm thankful that the characters in I ♥ Huckabees can't quite articulate their discontent. This is not just a film for our times, it's one for our state of mind. Jude Law's portrayal of a skeptical corporate ladder climber who eventually becomes the center of this constantly shifting spectacle is likely the year's best performance.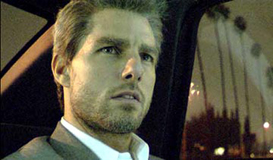 9. Collateral – Director Michael Mann is nearly unparalleled when it comes to spinning atmosphere, and in Collateral, his highly charged noir thriller, he's found a perfect vehicle for his talents. Much has been made of Michael Mann's depiction of Los Angeles in this movie, for a good reason. This is one of those rare films where you're never for a minute able to forget where the action is taking place. There's constant tension in nearly every shot of the film. Even though it takes place during the night, there's nothing sleepy about this city, and that's reflected in the way that the artificial lights that dot the streets refuse to go out and the smoggy brown skies refuse to darken. Through Mann's eyes, L.A. becomes a series of empty freeways, where there don't seem to be enough cars in the world to fill the void. Empty walkways and corridors seem to have been constructed in a city where no one does any walking. The streets of this metropolis may be deserted, but they're undeniably alive. As the long night slowly slides from the dreamy to the nightmarish, the film follows cabbie Max (the excellent Jamie Foxx) after he picks up Vincent (the equally good Tom Cruise), a hitman who intends to use Max as his driver, as he goes about assassinating an oddly multi-cultural series of marks. It's a weak plot, but it's one that allows Mann to demonstrate what's clearly one of the year's most impressive and sustained directorial tour-de-forces.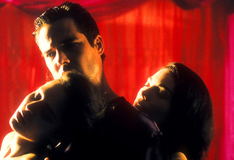 8. Secret Things – Almost as fluffy and almost as sexy as Gentlemen Prefer Blondes in some of its earlier scenes, this gold-digger comedy ends up stinging with a force that would knock out LaBute. It begs its viewers to buy into its fantasy world, only to rudely awaken them to the fact that any battle of the sexes is at its roots an honest-to-goodness power struggle with more at stake than meets the eye. The opening scene's cock-tease and the revelation of the audience that follows accurately suggest that the film will gladly leave logic at the door if it might help it to better provoke, and provoke it does. As he pushes the film into positively operatic dimensions, director Jean-Claude Brisseau loses none of his control. Telling the story of an unlikely friendship between two seemingly opposite women as they fuck their way to the top of the social ladder, Secret Things might not be politically correct, or even that relevant to the real world, but it certainly addresses (and possibly indulges in) a certain type of male fantasy that is all too common in cinema. Sex is clearly a weapon here, but it makes for an attractive one.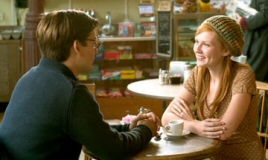 7. Spider-Man 2 – Rare is the pure popcorn film that powers its way onto one of my top ten lists, but this year I have several that could fit that description. Sam Raimi's Spider-Man 2 extends and improves upon the template that its solid predecessor set forth, resulting in a fulfilling movie experience. Raimi shows considerably more confidence while directing his action scenes this time out (they were probably the biggest letdown of the first installment) and he loses little in his attempts to deepen the bonds that exist between his surprisingly serious cast of characters. It's almost startling to see a movie with the resources that Spider-Man 2 had at its disposal focus on people, but that's probably what most distinguishes this movie from its ilk. In the wrong hands, a movie of this formula (i.e. a hundred-and-fifty-million-dollar sequel in a superhero comic book franchise) would typify everything that's wrong with the current studio system, but under Raimi's guidance, this is mass moviemaking at its best.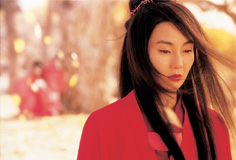 6. Hero – More gorgeous than any film has a right to be, Zhang Yimou's near-masterpiece of balletic martial arts action is a remarkably expressive and fully satisfying piece of work. Though its politics have been both called into question and praised to the heavens, it is such a charged aesthetic object that such concerns almost don't matter. Its color schemes tell us all we need to know. The lush visuals reveal what the affectingly restrained performances hold back, making it in more than one way resemble In the Mood for Love, which was both the last film to pair up stars Maggie Cheung and Tony Leung and the last film to be this sensually rapturous. Thanks to its nested narrative structure, its roundelay of fiery passions and cloudy motivations remains surprising until the final sword is drawn.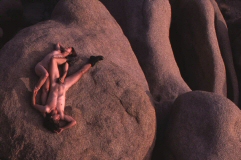 5. Twentynine Palms – Bruno Dumont, in this elemental road movie, follows the lead of many foreign directors who have found themselves making a film in America and presents the landscape, and its inhabitants, as alien, yet utterly spellbinding. Spellbinding is the appropriate word too for the director's work here, which utilizes space - the one thing the Southwestern desert has in abundance - brilliantly. Dumont's stunner presents a series of intensely private moments conducted in public spaces (even including a snippet of The Jerry Springer Show to drive the point home), placing the audience in an emotionally exposed state, where we feel all too open to unwanted intrusion. In its way, it manages to provide glimpses of a true idyll, despite its realistic setting and characters. When that existing trust is violently shattered, however, the shock is liable to strike you to your core. Yet, somehow, after that daze finally fades, it's likely to be the remembrance of unguarded trust that defines your memory of Twentynine Palms.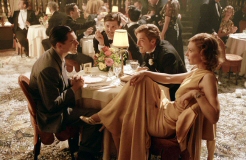 4. The Aviator – After the clumsy, generally unpleasant ride of Gangs of New York, Martin Scorsese's last great shot at the Best Picture Oscar, it was a hell of a surprise to find him helming a film that held its wit and its entertainment value as its prime virtues. Though its first two hours are considerably stronger than its third, The Aviator is in practice far better than anyone could have expected from reading its script. A glorious recreation of the Golden Age of Hollywood, and a chance for Scorsese to indulge both his sense of nostalgia and his stylistic excess, the film is easily one of the most dazzling entries in the typically moribund biopic genre. Though the third hour shoehorns a clumsy subplot onto the pageantry, the foundation built by Leonardo DiCaprio and Cate Blanchett's stellar performances powers the film through any turbulence. If Scorsese is finally awarded with a Best Director statute this year, at least there will be little sense that the victory is merely consolation for past successes.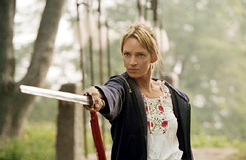 3. Kill Bill: Volume 2 – A snippet of a cartoon of uncertain origin viewed near the end of Kill Bill: Volume 2 tells us blatantly that, "the magpie deserves your respect." Perhaps that line best describes the most fruitful way to view the Kill Bill movies. Quentin Tarantino might be an obsessive collector of forgotten cinematic possibilities, but he's also a generous one who's more than willing to share. By reconfiguring past oddities into an accessible form for modern sensibilities, he makes his movies a great encouragement to cinephilia. They remind us that there is still value in those films that have become lore due to their obscurity. Now that both volumes of Tarantino's epic exist, arguments over whether or not they should have been split seem utterly pedantic. The massive combination of the first and second Kill Bill movies stands as a testament to both Tarantino's exceptional skill as a filmmaker and the possibilities of pop cinema.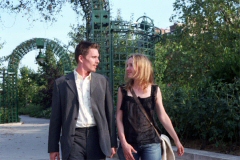 2. Before Sunset – It's funny that so many film critics went for the low-key, low-return pleasures of Sideways this year when there was an alternative vintage available, aged to perfection, so that it achieved a far richer flavor than that comparatively bitter swill. Before Sunset, Richard Linklater's best film to date, splashes the cold water of reality in the face of its starry-eyed predecessor, yet it's doubly romantic for doing so. It achieves such an intoxicating mood that you're almost... almost… able to ignore the pitfalls that would await the couple should they decide to seriously pursue things past their second date in nine years. Ethan Hawke and Julie Delpy (who also assisted Linklater with the script) provide the only performances here, which are all the more impressive for sustaining the feel of a conversation taking place in real time. These actors push the film into the realm of autobiography. Their growth, both physical and emotional, turns the movie into a surprisingly deep and universal meditation on the nature of time.
1. Dogville – What to make of the fact that this most savagely political of movies was all but ignored by audiences in this hot-button election year? Probably that it's too complicated for those who wish to distill everything down to an "us versus them" proposition. In a lot of ways, Dogville is all things to all people, even if it seems half the people who saw it rejected it outright. Undeniably stagebound despite its cinematic virtues, yet unmistakably literary, it's filled with meanings that criss-cross until you can scarcely tell who is representing what exactly (Is it Biblical or Political? Is it Anti-American or simply Anti-Oppression?), yet the story, with a rigid structure that strongly echoes that of an old-fashioned Hollywood film, possesses its own undeniable power, regardless of personal interpretation. Sustained in its judgmental intensity, yet prone to explosive snap decisions and quick wit, the movie is equally powerful in damning the Left and Right, if you choose to see it in those terms. Essentially, the tale of a bunch of dogs trying to act like gods, who ask for another shot and fudge their Mulligan, Dogville is easily the best film of 2004. In comparison, no one else this year seemed to be trying very hard.
A Dozen That Almost Made It: Sky Captain and the World of Tomorrow, Alila, Birth, Closer, The Polar Express, Troy, Code 46, La Petit Lili, Springtime in a Small Town, Who Killed Bambi?, Anatomy of Hell, The Time of the Wolf
Achievements in Individual Categories:
Best Director – Lars Von Trier, Dogville (Runner-up: Richard Linklater, Before Sunset)
Best First Feature – Sky Captain and the World of Tomorrow (Runner-up: Who Killed Bambi?)
Best Ensemble – I Huckabees (Runner-up: Dogville)
Best Actress –Nicole Kidman, Dogville (Runner-up: Julie Delpy, Before Sunset)
Best Actor – Ethan Hawke, Before Sunset (Runner-up: Owen Wilson, The Big Bounce)
Best Supporting Actor – Jude Law, I ♥ Huckabees (Runner-up: Mark Wahlberg, I ♥ Huckabees)
Best Supporting Actress – Darryl Hannah, Kill Bill: Volume 2 (Runner-up: Cate Blanchett, The Aviator)
Best Original Screenplay – Lars von Trier, Dogville (Runner-up: Richard Linklater, Julie Delpy & Ethan Hawke, Before Sunset)
Best Adapted Screenplay – Patrick Marber, Closer (Runner-up: David Benioff, Troy)
Best Editing – Jim Miller & Paul Rubell, Collateral (Runner-up: Sally Menke, Kill Bill: Volume 2)
Best Cinematography – Christopher Doyle, Hero (Runner-up: Harris Savides, Birth)
Best Art Direction – The Aviator (Runner-up: Sky Captain and the World of Tomorrow)
Best Costumes – Hero (Runner-up: Ocean's Twelve)
Best Sound – The Aviator (Runner-up: Troy)
Best Sound Editing – Collateral (Runner-up: Dogville)
Best Visual Effects – Sky Captain and the World of Tomorrow (Runner-up: The Polar Express)
Best Makeup – Kill Bill: Volume 2 (Runner-up: The Ladykillers)
Best Original Score - Alexandre Desplsat, Birth (Runner-up: David Holmes, Ocean's Twelve)
Best Original Song – N/A
Best Documentary – This So-Called Disaster (Runner-up: Metallica: Some Kind of Monster)
Best Animated Film –The Polar Express (Runner-up: Ghost in the Shell 2: Innocence)
Ten Best Foreign-Language Films – Twentynine Palms, Hero, Secret Things, Alila, La Petit Lili, Springtime in a Small Town, Who Killed Bambi?, Anatomy of Hell, The Time of the Wolf, Zatoichi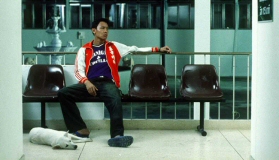 Ten Best '03/'04 Undistributed Films – Tropical Malady, Moments choisis des Histoire(s) du cinema, Clean, L'Intrus, Samaritan Girl, 3-Iron, The Heart is Deceitful Above All Things, Duck Season, Cinevardaphoto, Lila dit ca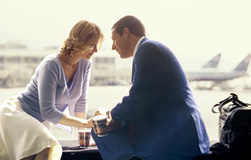 And, Finally, Since We're Halfway Through the Decade, I'll List My Top Ten Thus Far:

1. Punch-Drunk Love (Paul Thomas Anderson, 2002)

2. Werckmeister Harmonies (Bela Tarr, 2000)

3. Dogville (Lars von Trier, 2003)

4. Dancer in the Dark (Lars von Trier, 2000)

5. Before Sunset (Richard Linklater, 2004)

6. Elephant (Gus Van Sant, 2003)

7. Spider (David Cronenberg, 2002)

8. Crouching Tiger, Hidden Dragon (Ang Lee, 2000)

9. Kill Bill, Vol. 1 (Quentin Tarantino, 2003)

10. George Washington (David Gordon Green, 2000)

-- Jeremy Heilman

01/04/05

*The criteria used in determining eligibility was a U.S. commerical theatrical premiere in 2004.