Newest Reviews:
New Movies -
Abraham Lincoln: Vampire Hunter
Old Movies -
Touki Bouki: The Journey of the Hyena
The Strange Affair of Uncle Harry
Archives -
Recap: 2000, 2001, 2002, 2003, 2004 , 2005, 2006, 2007 , 2008 , 2009 , 2010 , 2011 , 2012
When Will I Be Loved (James Toback, 2004)
When Will I Be Loved, the new, Manhattan-set movie from James Toback, once again finds the writer-director relegating plot to a secondary concern after his actors' big scenes. Riffing on the storyline of Indecent Proposal, Toback's film has less of a narrative than a scenario in which we see his small cadre of performers square off against one another. Toback obviously adores the actors that he works with, and When Will… kowtows to its cast as much as any of his films. Campbell's role might be her most challenging to date, and she acquits herself well enough with her portrayal of a young, cultivated, Ivory Tower Manhattanite princess. Even given the fact that the first scene shows her masturbating in the shower, she's not as innocent as she appears to be, and her ability to turn instantaneously from victim to victimizer is uncanny. Fred Weller is cast as her foil, a sleazy, would-be pimp who is technically her boyfriend, but perhaps more accurately a sexual mentor whom she's outgrown. Not long after he's introduced to us, we see him engaging in a threesome in Central Park (wasn't there one of those in Toback's Black and White?) minus Campbell, who finds time to have an adulterous sexual encounter of her own.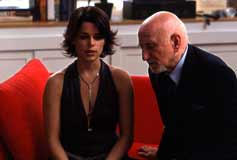 When Will I Be Loved takes place in a morally dubious world, but the seeming justification of its approach is its bid to turn the tables on those men who would exploit its heroine. Campbell plays a woman who is sexually, financially and emotionally self-sufficient. She comes off as a male fantasy of an empowered woman, though. Even more unfortunately, the slim but succinct plot resolves itself so that the end result of its supposedly progressive feminist spin on the film-noir setup is smug self-satisfaction on the part of Campbell's femme fatale. To a large extent, the conception of her character buys into the myth that empowered women are essentially emotional voids (or worse yet, eager to castrate the males who wrong them). There's no ignoring the feeling that De Palma's Femme Fatale got far more mileage out of this kind of genre critique. When Will… might be grounded more firmly in the real world than De Palma's movie, but an approximation of reality is not worth much in cinema, especially when a movie is concerned with pointing out the fallacies in other films.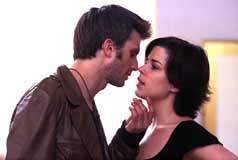 Toback's style here runs a fine line between invigorating and annoying. The tone constantly shifts between hysterical and refined. Much of the dialogue is improvised, and the loud soundtrack often threatens to drown it out. Hip-hop beats are put up against classical music and pop songs, with any given tune cutting out abruptly whenever a scene shifts. The editing is aggressive, with Toback always trying to relay multiple threads at any given moment. While it starts out as a provocative approach, by the end of the film it's grown tiresome because often the director interrupts an arresting scene with filler, simply to keep his rhythm going. Intellectually, you can respect the desire here to mesh low and high culture, black and white culture, and a Hollywood plot with an indie aesthetic, but for all of the ambition, there's very little that's able to enhance the characterizations. When a movie focuses on character as intently as When Will I Be Loved does, that's a major failing.
49
Jeremy Heilman
09-02-04