Newest Reviews:
New Movies -
Abraham Lincoln: Vampire Hunter
Old Movies -
Touki Bouki: The Journey of the Hyena
The Strange Affair of Uncle Harry
Archives -
Recap: 2000, 2001, 2002, 2003, 2004 , 2005, 2006, 2007 , 2008 , 2009 , 2010 , 2011 , 2012
Easter Bunny Kill! Kill! (Chad Ferrin, 2006)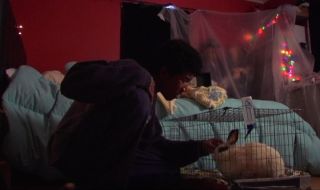 Especially by the standards of the slasher genre, Chad Ferrin's Easter Bunny Kill! Kill! is a singular piece of work. Set over the course of a nightmarish Easter weekend, this horrific movie utilizes a thin plot involving a single mom's sleazy new boyfriend as a means of depicting cinematic cruelty of a level rarely seen on screen. In a change from most horror films, though, the most shocking elements of Easter Bunny Kill! Kill! are not its numerous violent murders, but rather its extended depictions of emotional abuse. Nicholas, the protagonist here, stricken with dehabilataing cerebral palsy, is the butt of an endless series of taunts and threats from Remington, a murderous crook who's shacking up with his mother.
Ferrin spends a lot of time developing a distinctive set of characters. In doing so, the director avoids the trap that most slasher movies fall into, in which a story finds itself marking time until the body count begins to rise. Here, the character dynamics are almost unique enough to sustain the entire film. This is a genre piece, though, and eventually the cast begins to get bumped off by a mysterious assailant in an Easter bunny mask. At this point, Easter Bunny Kill! Kill! largely jettisons its focus on characters, which is unfortunate, because it successfully was navigating a tone that approaches taboo, even for horror films.
At least one can claim that, by the unambitious standards of the slasher genre, the rest of the movie is decent enough. As the plot plays out, a group of characters are picked off one by one with a variety of household objects. Ferrin doesn't seem especially adept at making any of these scenes scary, but they are extremely brutal, featuring murders that last longer than they usually do in this sort of thing. While it would be exaggeration to suggest that this is a torture porn movie, when a character suggests midway through that they're all "in a sea of depravity," he's hardly kidding.
Easter Bunny Kill! Kill! starts out with a degree of ambition that it eventually backs away from. Still, it manages to mine discomfort from a genre that all too often feels rote. Ferrin's decision to shoot on video, with largely natural light, lends the movie a realistic tone that makes the early scenes especially unnerving. Things surprisingly become less atmospheric in the film's second half, as the house that the characters creep around is plunged into darkness. Finally, Easter Bunny Kill! Kill! must be given credit for a final twist that, despite being rather illogical, sets up a skewed Easter miracle that ends things on a pleasingly twisted note.
54
Jeremy Heilman
08.03.10