Newest Reviews:
New Movies -
Abraham Lincoln: Vampire Hunter
Old Movies -
Touki Bouki: The Journey of the Hyena
The Strange Affair of Uncle Harry
Archives -
Recap: 2000, 2001, 2002, 2003, 2004 , 2005, 2006, 2007 , 2008 , 2009 , 2010 , 2011 , 2012
Flanders (Bruno Dumont, 2006)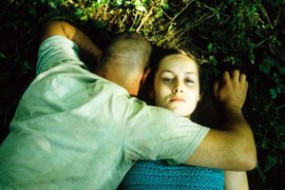 Bruno Dumontís Flanders offers what is as close to a happy ending as weíve seen from the director, but itís hard won. The first half hour of the film, set mostly on a rural Belgian farm during the harsh autumn, depicts a of sort of idyllic severity. Dumont uses this sequence to observe the sheer physicality of his onscreen world. The actors communicate mostly through body language. He highlights the clumsiness of his cast, the mechanics of farming, and the dampness of the climate. This contrasts sharply with the scenes that follow, in which two men from the rural region enlist in a military operation in a nonspecific foreign country. The desert terrain they inhabit there is desolate and arid. It couldnít be farther from what theyíve come from. The enemies they face jabber at them, and itís immediately apparent from their bullying tactics that there will be no common ground forged. What transpires instead is a series of bloody and brutal sequences, that force the men to confront their savage instincts. As Dumont cuts between their trials and the rapidly unraveling woman left behind at home, he sets up parallels, such as those involving dual sexual indiscretions, that wordlessly express the dissatisfaction and angst that the characters canít quite articulate.
The effect of this slim but forceful plot gives Flanders the bluntness of a parable, a feeling that is only enhanced by the changing seasonal backdrop that accompanies the passage of time in the story. Dumont subtly turns his film into a larger statement about the horrors of war and the role of gender in coping with it. Enough is left vague that an abstract quality is achieved, and the effect is one of amplification of the themes running throughout the film. Itís clear that despite the largely sub-verbal rumblings of the characters, their spirituality is of prime concern. Few directors are as willing as Dumont to depict people who are not intelligent, and perhaps no one else is as convinced as he that the possibility of their redemption demands attention. For every moment of this minutely controlled film, Dumont interrogates where they themselves do not.
76
Jeremy Heilman
01.03.08