Newest Reviews:
New Movies -
Abraham Lincoln: Vampire Hunter
Old Movies -
Touki Bouki: The Journey of the Hyena
The Strange Affair of Uncle Harry
Archives -
Recap: 2000, 2001, 2002, 2003, 2004 , 2005, 2006, 2007 , 2008 , 2009 , 2010 , 2011 , 2012
Song and Solitude (Nathaniel Dorsky, 2006)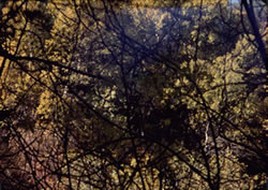 Like a city symphony film viewed under a microscope, Nathaniel Dorskyís rapturous non-narrative work Song and Solitude abstracts the everyday in revelatory ways. An exercise in subtle cinematography that doesnít have to serve any sort of commercial or narrative purpose, the short uses close observation of natural light to reveal a plethora of marvels that could have come from our own humdrum environs. Whether showing clouds reflected in a puddle or using disorienting close-ups to highlight the textures of objects such as wool sweaters or furniture, this silent, homemade film finds a level of splendor rarely seen in even the most elaborate productions. Throughout the twenty-minute run time, Dorsky points his camera skyward and toward the ground, into bright light and into deep darkness, using angles that vary from broad landscape shots to close-ups so close that the object being filmed is indiscernible. More often than not, he shoots objects that are not obviously pretty, making a concerted effort to show us something we havenít seen before in the spaces weíve always inhabited.
The speed of the editing contributes to the exhilaration here. Dorsky holds each shot for a brief amount of time, usually about ten seconds or less, creating a certain level of anticipation about what will be seen next. He never lingers longer than is necessary to observe some small miracle of shifting light, such as when he highlights the little spectacle that occurs as the sunlight changes during an extreme close-up of a plain concrete wall. The telltale texture of that wall is recognizable, but the proximity to it is completely defamiliarizing. Throughout Solitude, Dorsky takes this approach. Peoplesí faces are obscured in shadows, passing cars are seen only via a windowís reflection, gently swaying grass is blown up to the entire screenís height. Some of these pictures become are optical illusions, of sorts, in that itís often not immediately apparent what a given subject might be. Thatís not to say that the film relies upon this sort of trickery, however. Itís always immediately apparent what wondrous light effect Dorsky is asking us to observe, even if weíre not certain what the object that is light might be.
Words donít do it justice.
86
Jeremy Heilman
01.06.07