Newest Reviews:
New Movies -
Abraham Lincoln: Vampire Hunter
Old Movies -
Touki Bouki: The Journey of the Hyena
The Strange Affair of Uncle Harry
Archives -
Recap: 2000, 2001, 2002, 2003, 2004 , 2005, 2006, 2007 , 2008 , 2009 , 2010 , 2011 , 2012
California Dreamin' (Endless) (Cristian Nemescu, 2007)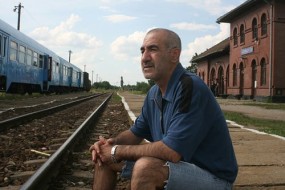 Cristian Nemescu was posthumously awarded the top prize in Cannesí Un Certain Regard section for California Dreaminí (Endless), his first and only feature. Alongside Cristian Mungiuís Palm DíOr win at this yearís festival, it represented the crest of whatís being referred to as the Romanian New Wave. Over the last few years, the countryís output has captured the attention of festivalgoers, who have declared it a hotspot of world cinema. That being said, itís unlikely that many will find California Dreaminí (Endless) to be the most impressive movie to come from Romania over the last few years. Itís a strong film, but it happens to be in stronger company.
Set in 1999, the movie follows whatís euphemistically referred to as a U.S. Peacekeeping mission. As a small group of American soldiers are forced to stop at a tiny townís train station, the film begins introducing a barrage of characters. A lot of balls are kept in the air here, as the audience meets the American troops, the rascally station agent, his daughter (who hopes to run away with the troops), her schoolmates, the conniving mayor, and a group of protesting gypsies. The townsfolk devise a plan to restage their centennial in order to lure American investment to the country, then later try to use the U.S. military might to stir an uprising. The finale brings all of these groups together, and the cross-cutting between the different characters becomes less problematic as the film picks up speed. For a while, though, the plot is difficult to get into because of how busy it is.
California Dreaminí (Endless)ís creator died before the editing of the feature was completed, and it shows, especially during the first hour. Sloppy and perfunctory, the expository scenes feel hopelessly overextended for what seems to be a simpleminded and overly cynical look at buffoonish characters. Boorish American troops are contrasted against hopelessly naÔve Romanian villagers, who try to entertain and swindle them as they are held captive by a bureaucratic snafu. Thankfully, the remaining 90 minutes puncture that setup, shifting these character dynamics in unexpected ways. Eventually each of the characterizations deepens, finding a happy medium between comic and realistic extremes. The film also gradually takes on a satirical, but grounded, vibe, acquiring more sting than one would initially expect. When itís all said and done, itís obvious that the complicated plot has been working overtime to set up a tragic conclusion, which is surprisingly effective in tying up all of the storylines.
Nemescuís film is strong enough that it can be considered genuinely unfortunate that his career has been cut so short. He creates some fine visual moments, here, despite a general predilection for realism. California Dreaminí (Endless) ultimately reveals itself as a surprisingly ambitious debut. Although it starts out taking cheap shots at its characters, it cannot be accused of this by the end of its runtime. By the time the caustic ending unfolds, Nemescu has presented both a world-weary outlook toward the countryís complicated past and an almost startling role-reversal in which the Americans, and not the Romanians, are revealed to be the naÔve ones. Thereís no doubt that California Dreaminí (Endless) could do with some editing (indeed, the parenthetical in the title refers to its unshaped state), but thereís just as little doubt that Nemescuís work is pretty worthy as is. When a foreign film this accomplished strikes you as somewhat second rate, you can definitely take it as a sign of a healthy national cinema.


58
Jeremy Heilman
08.27.07