Newest Reviews:
New Movies -
Abraham Lincoln: Vampire Hunter
Old Movies -
Touki Bouki: The Journey of the Hyena
The Strange Affair of Uncle Harry
Archives -
Recap: 2000, 2001, 2002, 2003, 2004 , 2005, 2006, 2007 , 2008 , 2009 , 2010 , 2011 , 2012
Happiness (Hur Jin-ho, 2007)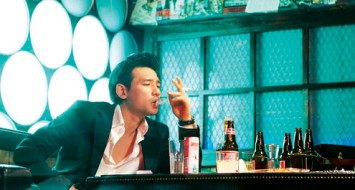 South Korean melodrama maestro Hur Jin-hoís (Christmas in August) latest film may be titled Happiness, but it expends more energy demonstrating how fleeting that emotion can prove to be. Indeed, the first two scenes here depict a bitter breakup and a night of bar hopping that quickly turns ugly. Before long we discover that Young-su, our hero, is no casual drunk. Heís a bona fide alcoholic, complete with a potentially fatal case of cirrhosis. Leaving his harmful Seoul (and soul) behind him, he departs for a sanatorium in the Korean countryside where he will embark on a journey of emotional detox that will be charted by the rest of the film.
Immediately upon arriving in the small town that will become his new home, Young-su meets Eun-Hee, a pretty, terminally ill girl afflicted with a lung disease. In true generic fashion, the first time Young-su sees her he tosses his drink away, smitten. The two predictably become an item and face their diseases with a mix of humor and defiance, making the movie seem like a sort of warmer, gentler Leaving Las Vegas. There are some moments where Hur bucks genre conventions, opting for a more bitter emotional stew, and they are welcome. One such example of this tendency is personified by the presence of Young-suís roommate, who is afflicted with lung cancer. Scenes detailing his decline, pessimism, and regret do much to keep the specter of doom in the air.
Because of the genre at play, it seems obvious that any joy that the young lovers will find will be cut short, whether it be due to moral failings or physical ones. As the film chronicles the ups and downs of their romance, it oscillates between bucolic scenes of their infatuation and ones chronicling the urban threats that threaten to return Young-su to a life of vice. The plot is not surprising stuff, so the quality of the execution becomes paramount. Unfortunately, for every deftly inserted symbol that Hur finds (such as the cell phone reminding us of the ease with which Young-su could regress), he overplays an element of the script. The pressures of the rat race are too clearly epitomized. Young-suís ex-girlfriend is too easily demonized. The sickly girl that he loves is too simplistically idealized, hacking fits and all. Ultimately, then, Happiness seems most distinctive not as a specific directorís work, but rather as an entry in a distinctly Korean melodramatic subgenre. The boorish leading man and largely unquestioned submissive attitude of the women seem cultural touchstones for the nationís cinema, and are firmly represented here.
46
Jeremy Heilman
01.08.08