Newest Reviews:
New Movies -
Abraham Lincoln: Vampire Hunter
Old Movies -
Touki Bouki: The Journey of the Hyena
The Strange Affair of Uncle Harry
Archives -
Recap: 2000, 2001, 2002, 2003, 2004 , 2005, 2006, 2007 , 2008 , 2009 , 2010 , 2011 , 2012

Madame Tutli-Putli (Chris Lavis & Maciek Szczerbowski, 2007)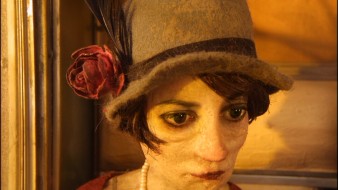 Made with absolute technical virtuosity and startling emotional ambition, Chris Lavis and Maciek Szczerbowski's dazzling animated debut Madame Tutli-Putli is a marvel in motion. Telling the elusive story of a woman travelling by train, this short film features an utterly seamless mix of stop-motion and CGI animation that just might represent the technical high-point of stop-motion technique to date. What elevates it to the next level, though, is the filmmakers' ambition. Not content to simply wow us with life-like movements and immaculately detailed sets, the directors set out to advance the storytelling potential of their medium. With an eerie, open-ended plot and a surprisingly somber tone firmly under their control, they just might have succeeded on that front.
The short begins with a long, slow track across the good Madame's massive pile of baggage, immediately establishing an almost ineffable, but unmistakable quality of sadness that permeates all of what's to follow. When the camera finally settles, it finds a most unusual protagonist for an animated work. Hunched over, she's mousy, almost to the point of caricature. At the same time, she possesses a certain degree of humanity that demands we not laugh. Her past remains sketchy, but we can intuit enough to become involved in her story. Her remarkably expressive features make her look world-weary. If she's not a faded beauty just yet, she's certainly a fading one. Focus is immediately drawn to her sad, slightly bulging eyes. They're piercing, and they're the secret, I think, to selling the character. Without a doubt, they put to shame the shoddy work done in Robert Zemeckis' megabudget motion capture spectacles.
Once the captivating Ms. Tutli-Putli boards her train, the atmosphere becomes inescapable. Feeling like a cramped conglomeration of trains we've seen from a dozen other movies, the setting for the rest of the film is both superbly realized and subtly threatening. After a brief stint as a comedy of manners, Madame Tutli-Putli reveals the cinematic intentions that it had obviously been harboring all along, shifting gears and becoming a bona fide suspense film, complete with chase scene. As Madame Tutli-Putli rides its night train into uncharted territory, it remains completely instinctive. This is a doubly remarkable achievement considering the amount of painstaking work that must have gone into creating it. The resulting film is an unqualified success, capable of pulling viewers into its unique, and uniquely unsettling, universe, like moths drawn to light.
79
Jeremy Heilman
01.15.08