Newest Reviews:
New Movies -
Abraham Lincoln: Vampire Hunter
Old Movies -
Touki Bouki: The Journey of the Hyena
The Strange Affair of Uncle Harry
Archives -
Recap: 2000, 2001, 2002, 2003, 2004 , 2005, 2006, 2007 , 2008 , 2009 , 2010 , 2011 , 2012
Happy-Go-Lucky (Mike Leigh, 2008)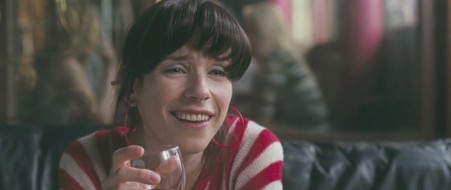 While the ebullient first hour or so of Mike Leigh's Happy-Go-Lucky earns the film its title, the back end becomes a dopily philosophical meditation on laughter's place in the world, eroding audience goodwill. This particularly peppy movie gets off to an immediately ingratiating start with a credits sequence that introduces Poppy (Sally Hawkins), the carefree heroine, who's seen flipping back her hair as she rides her bike through London streets, broadly smiling. Her improbably chipper manner, and the ways that it contrasts with the insistent sourness of the common people who populate Leigh's London, are the prime objects of study here.
Ostentatious, and mildly overbearing, Poppy is a constant presence throughout Happy-Go-Lucky. She's characterized by her good cheer and her openness to new experience. Even though she's an elementary-school teacher, she's just as often shown in the role of a pupil. Her instructors, a cynical driving instructor (Eddie Marsan, who overplays) and a self-serious Flamenco coach, are turned, like most in the film, into comic foils for Poppy. Leigh presents her as a quixotic presence in a world gone mad, stacking deck in each of her encounters in a manner that makes her chronically upbeat nature seem, well..., natural. No matter what happens to her, Poppy takes life in stride, shrugging off the theft of her bike as an opportunity for growth and turning a bout of back pain into an excuse to laugh outrageously. As the film proceeds, dramatic form dictates that some sort of challenge must emerge to test Poppy's upbeat resolve, but Leigh introduces most of these eventual intrusions of drama in the least satisfying manner possible, pitting her against a series of borderline sociopaths. Although these scenes don't entirely sink Happy-Go-Lucky, they turn a winning character study into a didactic bore.
For a long while, peeping on Poppy is pleasant enough. Obvious skill went into crafting the observational slackness of the first part of the script, and it must be said that Poppy's incessant perkiness goes down easier than the forced dourness that concludes Vera Drake. This movie undeniably starts to veer off course, though, during Poppy's late-night encounter with a homeless man, which recalls the worst parts of Naked. It unfortunately reminds us that danger in a Mike Leigh movie is almost always predicated on class issues. Frankly, the director could have just cast David Thewlis in this small part and plunged headlong into self-parody. From this point on, Happy-Go-Lucky develops an ungainly thesis. The shapelessness of the first hour was a clear asset. As Leigh tries to force a point, and show that Poppy's demeanor is an appropriate coping mechanism for the world around her, Happy-Go-Lucky begins to show its seams. Its carefree nature sags under its sudden need to justify itself. In the end, Hawkins' vivid characterization of Poppy alone justifies Happy-Go-Lucky. The hamfistedness of Leigh's script sadly undermines what probably should have registered as a towering performance.
52
Jeremy Heilman
08.18.08