Newest Reviews:
New Movies -
Abraham Lincoln: Vampire Hunter
Old Movies -
Touki Bouki: The Journey of the Hyena
The Strange Affair of Uncle Harry
Archives -
Recap: 2000, 2001, 2002, 2003, 2004 , 2005, 2006, 2007 , 2008 , 2009 , 2010 , 2011 , 2012
Summer Hours (Olivier Assayas, 2008)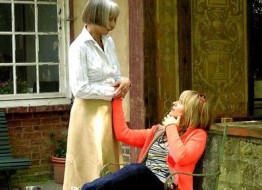 Olivier Assayas' Summer Hours is more complex than it seems on the surface, yet less subtle than its greatness would require. This family drama finds its versatile director, like many of its characters, retreating home after an extended amount of globe-trotting. Assayas seems happy to be back in familiar territory. This movie contains little of the overt unease of his last few movies (namely Clean, demonlover, and Boarding Gate), however, he now looks at his country with a more critical and concerned set of eyes. He's fully aware of what his time abroad has revealed about this day and age. Set mostly on a bourgeois, quintessentially French, family's estate, Summer Hours likewise sees its characters questioning just how much value they place on their traditions in our increasingly busy, globalized world.
Summer Hours starts promisingly and poignantly. An all-star French cast assembles for an extended family gathering, and there lingers in the air the sensation that they are collectively trying to recapture a moment that has already passed. Careful attention is paid to the sensitivities of each member of the ensemble, as the roving camera finds some time for each of them. Conflict arises, gently. Adult children encourage their mother to accept a digital telephone that she insists she doesn't need. Judgments are made, but are so familiar to the other party that they scarcely need to be voiced again. Every knickknack seems to bring back a flood of memories, even to the people who still live in the house. Early scenes, such as the one in which Edith Scob's matriarch lays the responsibility for the family's posterity on beleaguered Charles Berling, function at once as believable, low-key but trenchant, examples of familial strife and a deft extension of Assayas' larger themes.
The intent here is clear. Assayas wants to invoke traditionally French, character-driven, cinema and see how it fares when confronted with the changing state of the world. This is worthy material for a contemporary film, and yet Summer Hours is somewhat overemphatic in expressing its thematic concerns. By the midpoint of the movie, everything begins to sag with import. Each conversation explicitly and inevitably taps into a theme of globalization or generational distance. The realities of the modern world don't just inconvenience this family. They begin to beat them over the head. What was a relatively naturalistic study of a group of characters morphs into rumination on such subjects as the posterity of art, the burden of tradition, the navigation of generational gaps, and what constitutes twenty-first century nationalism.
Summer Hours' level of ambition is theoretically admirable. An up-to-the-minute look at France's place in the world is coupled with Assayas' mode of storytelling, which echoes Renior's in its almost-obligatory attention to each character's point of view. Beyond this, Assayas' own career is being systematically re-evaluated. Summer Hours nods most explicitly to Assayas' period piece Les Destinées Sentimentales, which similarly focused on one family as they came to terms with changing times, but it's hardly the only acknowledgement of what's come before. In a late-breaking party sequence, the camera tracks throughout a house, much as in Cold Water. A strained father/daughter relationship feels like it could have sprung from A New Life or Paris Awakens. The frame's constant motion and Eric Gautier's cinematography similarly feel familiar (and, at this point, almost familial).
Despite obvious strengths, Summer Hours is merely worthy, instead of exalted. In its ambition, it gradually becomes the slightest bit overwhelming and clumsy. It makes its own nuances feel compulsory instead of casually observed. Assayas never stumbles terribly in investigating the state of modern France, this particular family, or his own career, but in spreading his scope so broadly, he propositions more than he finally delivers. The film is alert to the world, but seems defeated, rather than enriched, by its complexities. One suspects a tighter focus would have revealed greater depths here. Summer Hours is undeniably in touch with the way we live, eminently respectable, and a tad forced.
66
Jeremy Heilman
05.19.09