Newest Reviews:
New Movies -
Abraham Lincoln: Vampire Hunter
Old Movies -
Touki Bouki: The Journey of the Hyena
The Strange Affair of Uncle Harry
Archives -
Recap: 2000, 2001, 2002, 2003, 2004 , 2005, 2006, 2007 , 2008 , 2009 , 2010 , 2011 , 2012
(500) Days of Summer (Marc Webb, 2009)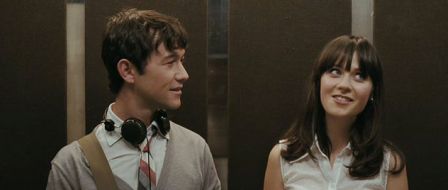 An extended gimmick in search of meaning that might allow it to justify itself, Marc Webbís anti-romantic comedy (500) Days of Summer makes its biases clear from the outset. Its opening title cards disavow taking any inspiration from reality, then proceed to call the woman that presumably inspired the film a bitch. This seems a blatant disservice to Summer, the female object of adulation in the movie to follow, especially as embodied by the always-luminous Zooey Deschanel, but it certainly reflects the screenwritersí unremittingly masculine, unremittingly self-absorbed viewpoint.
Told from the perspective of Tom (a mannered Joseph Gordon-Levitt), a twentysomething slacker who is purportedly something of a romantic, the film isolates scattered moments from Tomís acquaintance with Summer, taking us from the day he meets her until the day he gets over her. The events that follow are arranged in a jumble that places the would-be coupleís swooning first kiss up against the bitter, passive-aggressive fights that mark the ending of their relationship. By the filmís end, Tom is a year and a half older, but not much wiser. The last scene of the film shows him choosing another supposedly life-changing mate on the basis of her ability to flatter his aesthetic sensibilities, demonstrating that little growth has taken place during his extended roundelay with Summer.
One wonders what charm is supposed to exist for the audience that observes a figure so completely oblivious. Itís no surprise that Tom explains that heís blatantly misread The Graduate at the start of the film, fixating on wish-fulfillment instead of doubt, but before long itís obvious heís failed to understand his beloved The Smiths records as well. He wants to yearn tragically, but demands instant gratification. His idealization of romance and the opposite sex has little to do with reality, and were it not for the warmth and charisma generated by Deschanel, the filmís close alliance with his insular point of view would soon grow insufferable.
Of course, Deschanelís quirks only go so far. She alone cannot rescue (500) Days of Summer, especially since sheís already anchored David Gordon Greenís All the Real Girls, an altogether sweeter, wiser film with the exact same subject matter. What remains is a slick product. (500) Days of Summer presents love as an advertiser would imagine it. Tomís frustrated as a man who writes false sentiment in greeting cards for a living, but in watching the movie it becomes obvious that indulging himself in phony sentiment is probably his true calling. Itís endlessly exasperating that the film supports him stylistically, giving his flights of fancy the full backing of the soundtrack, the split-screen, and a battalion of backup dancers. There are a few heart-rending moments scattered throughout the film in which Deschanel gets to offer Summerís point of view, but every moment of Tomís sub-Annie Hall routine confounds not only audience expectation of a balanced feminine perspective (or at least a more thoughtful critique of Tomís outmoded white knight complex) but the very notion of romance itself.
44
Jeremy Heilman
07.19.09