Newest Reviews:
New Movies -
Abraham Lincoln: Vampire Hunter
Old Movies -
Touki Bouki: The Journey of the Hyena
The Strange Affair of Uncle Harry
Archives -
Recap: 2000, 2001, 2002, 2003, 2004 , 2005, 2006, 2007 , 2008 , 2009 , 2010 , 2011 , 2012
A Prophet (Jacques Audiard, 2009)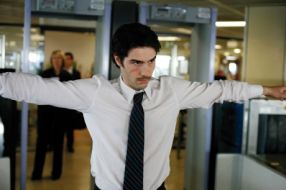 The standard issue prison drama gets a much-needed infusion of nervous energy in Jacques Audiardís accomplished, absorbing A Prophet. A multi-year chronicle that charts the detention of Malik (Tahar Rahim), a 19-year old Arab man imprisoned for assaulting a police officer, the movie achieves an epic feel even though most of its action takes place within the same few halls. Throughout A Prophet, Audiard uses a wealth of procedural detail to take viewers inside the criminal world that exists behind prison walls. The message of the movie is that life while incarcerated is a kill-or-be-killed proposition. Prisons are presented as asylums, where the quarantining of criminals inevitably begets more crime. This dubious setup, which eschews the question of moral decision making almost entirely, is decidedly problematic, but it is a testament to Audiardís skill as a storyteller that A Prophet still emerges as must-see cinema despite it.
Audiard is a fine director, and every minute of A Prophet offers something exciting to look at. He tends toward images that are very tightly framed and often alternates between disoriented point of view shots and close-ups of his naturalistic actors. Early on, a bobbing camera is employed to offer us perspectives that are partially obscured by bars or shadows. The limited views of the outside world, glimpsed partially through frames of windows, recall Bressonís A Man Escaped. At every moment, the withholding of visual information reminds us that the film is set behind bars.
A Prophet, lacking a strong moral message or many surprising character developments, ends up being more effective in its details than its overall scope, but that is enough to make it memorable. One early scene, in which Malik is tasked with his first murder, really stresses the fact that Audiard may be the heir apparent to Hitchcock. The scenario, which encourages audience sympathy with a killer and features a telltale trickle of blood running out of the corner of Malikís mouth is worthy of the master of suspense, but the level of perversion here (Malik is an effective killer because heís attractive to sex-starved inmates) is Audiardís own. Other small epiphanies Ė the first flakes of a snowfall, Malikís first time aboard a plane, or the sand left in his shoe after he returns from a furlough Ė show that this moody filmís best moments are fleeting.
A Prophet is always engrossing in the moment, even as its pattern of manipulations and murders begins to grow a tad repetitive. Anxiety and excitement are ever-present here, which is surely a distortion of prison life, but the emphasis on sensationalism makes for good viewing. While A Prophet might lack the ambiguity and the moral complexity to make it a classic of its genre (try as Audiard might to tack redemptive and transcendent moments onto Malikís story), it is an excellent work by most standards.
67
Jeremy Heilman
07.07.10