Newest Reviews:
New Movies -
Abraham Lincoln: Vampire Hunter
Old Movies -
Touki Bouki: The Journey of the Hyena
The Strange Affair of Uncle Harry
Archives -
Recap: 2000, 2001, 2002, 2003, 2004 , 2005, 2006, 2007 , 2008 , 2009 , 2010 , 2011 , 2012
Mammoth (Lukas Moodysson, 2009)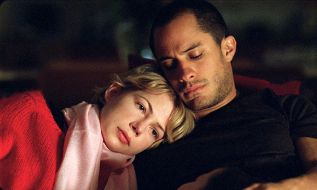 Swedish director Lukas Moodysson changes his style radically from film to film, but his ability to zero in on anguish and find empathy for anyone who his camera observes is the one constant in his career. It's also perhaps his greatest virtue as a filmmaker. In Mammoth, his first international co-production, he casts his net wider, spanning the globe in his quest to locate pain. With a plot that moves from New York City, to The Philippines, to Thailand, Mammoth threatens to take all of the worries of the world on its shoulders. Moodysson sees the planet's inhabitants as interrelated in their misery, and seems frustrated by our collective inability to overcome it. Before long, the director's empathy grows contagious. Characters that initially seem designed to elicit snap judgments grow increasingly worthy of our concern. Mammoth is nothing if not humanist.
The film opens by showing the privileged New York City home life of Leo and Allison (Gael García Bernal and Michelle Williams). They seem to have it all, from great jobs, to a posh apartment, to a charming kid, to a healthy sex life. Of course, Moodysson wouldn't be interested in them if they weren't suffering, so it soon becomes apparent that although they are superficially happy, they are discontent on a deeper level. Victims of their own success (he's a successful videogame designer, she's an E.R. surgeon), they have allowed their careers to supplant their personal lives. They each feel they lack control over their time and their relationship with their child. There's a sad moment early on, when Allison looks around at her apartment and finds nothing, including her daughter, that she can take solace in. The moment is convincing not only because Williams is such an inherently soulful actress, but also because it gives depth to a character that was previously something of a yuppie cliché.
This trend continues throughout Mammoth. The more time Moodysson spends with this couple, their nanny (Marife Necesito, quite good), and the other characters that they influence, the more he zeroes in on their dawning realizations that their lives are hollow. It's an approach that forces a process of questioning in the audience, as well, because it achieves awareness by undermining our assumptions and our reliance on appearances. The script arrives at this state of self-reflection only after some blunt theme-setting. This includes a visit to the Museum of Natural History where characters discuss blood cells and the planet Jupiter, the gift of a pen made from the tusk of a wooly mammoth, and a face-to-face encounter with an elephant, each of which is intended to give some sense of film's universalism. Still, Moodysson eventually succeeds in bringing his audience into a frame of mind in which his enlargement of his characters' personal concerns seems appropriate.
Mammoth's globe-hopping ensemble narrative has prompted lazy comparisons to Alejandro González Iñárritu's Babel, but Moodysson's more interested in examining his characters than setting up a series of melodramatic coincidences. While there are global ironies aplenty here (e.g. a woman working in America sends a toy which was made in the Philippines back to her son, who still lives in that country), and Moodysson's style is slicker than ever before, he's in control of his tone, which steadily accumulates in power as the movie unfurls. Before long, the director's careful attention to emotional nuance overcomes most objections to the subject matter or trite themes. It's in its last half-hour, when Mammoth begins to drum up climaxes, that the narrative pushes a little too hard. Moodysson recovers, though, and locates a fresh tragedy, by having most of his characters shake off their epiphanies. Mammoth makes a call for a new, globalized family unit and then mourns its failure to materialize.
Mammoth contrasts the concerns of a very privileged group of people with those of a more desperate group. As such, it's an easy movie to snipe at, but its quest for authenticity, even in its most affluent characters, is honorable. It seems to genuinely grapple with inequity and the impossibility of one person to change such a mammoth problem, and yet it shows how good intentions and global awareness can still have a corrupting influence. Though Moodysson overplays his hand at times (such as when his plot ventures back into the world of child prostitution that he explored in Lilya 4-Ever), the film ultimately does justice to its title, even while focusing on the insular disappointments of life. When Allison flips the channels of her TV set, we plainly see that the world is in crisis on a global scale. The rest of Mammoth examines such a crisis on an individual level.
64
Jeremy Heilman
07.24.09