Newest Reviews:
New Movies -
Abraham Lincoln: Vampire Hunter
Old Movies -
Touki Bouki: The Journey of the Hyena
The Strange Affair of Uncle Harry
Archives -
Recap: 2000, 2001, 2002, 2003, 2004 , 2005, 2006, 2007 , 2008 , 2009 , 2010 , 2011 , 2012
The Secret in Their Eyes (Juan José Campanella, 2009)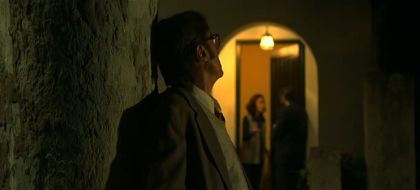 Esposito (Ricardo Darín), a retired court investigator, cracks the case that has haunted his entire career in the sluggish, forgettable The Secret in Their Eyes. Director Juan José Campanella, a two-time Oscar-winning Argentinian director who has also done extensive work on American television shows including Law and Order, uses that background to craft this procedural drama, which could be mistaken for the pilot episode of a TV program. A little bit scary and a little bit sexy, the drama on display here oscillates between the pursuit of a murderer who killed a woman in 1974 and a blunted relationship between the court investigator and a female attorney. This combination of sex and secrets, which must be a potent one for a large number of viewers, recalls that found in the recent hit The Girl With the Dragon Tattoo, which turned into a similarly improbable subtitled success story.
Campanella's work here is certainly polished (there's even one ostentatious tracking shot set at a soccer game that feels like it's been dropped in from another, more ambitious movie) and well-acted, but there's little that one can do with hoary material like this. From the start, his hero is doggedly pursuing leads that eluded investigators for decade. From the start, he is told that the pursuit is hopeless. From the start, we know how it will all turn out. It seems curious that as Hollywood has begun straying from this sort of police procedural to focus its attention on translating globally-acceptable licensed properties to the big screen, the foreign film market has stepped up to offer something of a substitute for the homegrown crime film.
Better examples of this sort of thing abound, though. Bong Joon-ho's 2003 work Memories of Murder, for example, managed to make its lingering mystery into something genuinely unsettling, and was more successful in its stabs at comedy to boot. Campanella's work exudes a dull proficiency, at best, failing to make its characters' obsessions sting or to transform this single investigation into a disquieting reminder of Argentina's descent into dictatorship. By its end, it seems that The Secret in Their Eyes has crafted a decade-spanning mystery mostly as a means of ensuring that there are plenty of opportunities to showcase some laughable, distracting old-age makeup. The secrets that it holds are scarcely worth discovering.
46
Jeremy Heilman
07.09.10