Newest Reviews:
New Movies -
Abraham Lincoln: Vampire Hunter
Old Movies -
Touki Bouki: The Journey of the Hyena
The Strange Affair of Uncle Harry
Archives -
Recap: 2000, 2001, 2002, 2003, 2004 , 2005, 2006, 2007 , 2008 , 2009 , 2010 , 2011 , 2012
The Trip (Michael Winterbottom, 2010)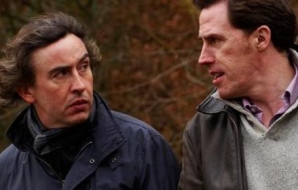 Michael Winterbottom's The Trip, a chatty, faux reality show adapted from a six-episode television series, is an initially charming diversion that sputters to a finish. The slim premise here sees two actors tasked by the newspaper The Observer to review the great restaurants of northern England. Playing themselves are Steve Coogan and Rob Brydon, who previously starred together (again, as themselves) in Winterbottom's 2005 adaptation of Tristam Shandy. Coogan, whose girlfriend chooses not to accompany him at the last moment, phones Brydon and asks him to join him on what turns out to be an opportunity for the two men to bond, pontificate, and reassess their priorities.
The Trip's premise mines humor from the improvisational conversations between Coogan and Brydon. The two are ill-suited for their simple job as critics, showing very little interest in and next to no expertise about the food they are supposed to be reviewing. "The consistency is a bit like snot," Coogan declares after taking a bite, "but it tastes great!" The two spend most of their time instead discussing their careers and ribbing each other about their respective acting prowess. This competition over who is the better actor largely takes the form of an endless series of celebrity impressions. Beyond this, the two engage in some light sightseeing (Coogan, from Manchester, amusingly feels like he's deeply in touch with the area) and manage their personal relationships via cell phone.
This is slight material, to be sure, but it is pleasant, to an extent. The nice cinematography, courtesy of Ben Smithard, makes the best of the overcast English countryside. The conversations between Coogan and Brydon are mostly clever and fun. Still, one cannot help but feel the film could aim at resolving something deeper than the boilerplate relationship issues that irk the two men. As it is, the improvisational jabs that the men throw at one another are drawn from a limited bag of tricks, and are not quite enough to sustain the film. Near the end, Coogan's father comments that "it must be exhausting keeping all of this going on," and he's more right than not. As The Trip's limited charms begin to wear thin, the lack of greater substance becomes more of a liability. Of course, not every film needs to aspire to great drama, but The Trip's insistent modesty begins to feel like a crutch after a while.
52
Jeremy Heilman
07.13.11