Newest Reviews:
New Movies -
Abraham Lincoln: Vampire Hunter
Old Movies -
Touki Bouki: The Journey of the Hyena
The Strange Affair of Uncle Harry
Archives -
Recap: 2000, 2001, 2002, 2003, 2004 , 2005, 2006, 2007 , 2008 , 2009 , 2010 , 2011 , 2012
The Yellow Sea (Na Hong-Jin, 2010)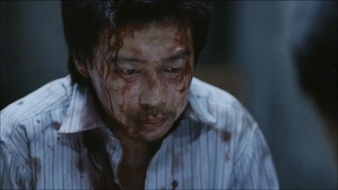 South Korean director Na Hong-Jin extends upon the promise exhibited in his debut feature The Chaser with his strong second film The Yellow Sea. An epic noir thriller that contains no small amount of excitement, it suggests that Na might well be the best action director currently working in Korea. Though this film's run time stretches well into a third hour, its plot is relatively simple. Gu-nam (Ha Jung-woo) is a Joseonjok cab driver whose wife has left him alone and riddled with debt in the Chinese town on Yanji. In a joint effort to locate her and earn money needed to repay the thugs he owes, he accepts a job as hitman and travels illegally to Korea. Once there, he finds himself a wanted man, caught in between dueling Chinese and Korean mobs and hungry for revenge.
The overarching set-up for The Yellow Sea may be clichéd, but this belies the film's moment to moment feeling of novelty. Throughout the film, there are moody scenes of Gu-nam roaming the streets of China or Korea that create a real sense of place. The tense sequence during which Gu-nam stakes out his mark's apartment favorably brings to mind one of Hitchcock's set pieces. When mood gives way to action, Na makes the most of every conflict between his characters, usually having confrontations explode in an outright bloodbath. Like the hammer murders that constituted The Chaser's most shocking scenes, the gang fights in The Yellow Sea are extended, gory bouts that see no man left unscathed. Even better than these fights, though, are two skillfully mounted chase sequences that continually up their scale and intensity. In each of these sequences, the mostly silent protagonist flees from dozens of thugs attempting to capture or kill him. Though Na uses shaky camerawork and a slew of momentarily disorienting close-ups he somehow manages to avoid the traps of spatial incoherence into which many modern action directors fall.
The Yellow Sea stands as a solid example of mainstream Korean filmmaking. Its slick visuals and meandering, wide-ranging narrative scope help to turn what could easily be formulaic into something more akin to an event. Though Gu-nam never really emerges as the most compelling or sympathetic of protagonists (he misses the film's climax entirely!), there's something to be said for Na's willingness to focus on his strengths. When a director is as capable as Na at creating an impressive sense of ambiance, who needs mawkish sentimentality?
62
Jeremy Heilman
07.14.11