Newest Reviews:
New Movies -
Abraham Lincoln: Vampire Hunter
Old Movies -
Touki Bouki: The Journey of the Hyena
The Strange Affair of Uncle Harry
Archives -
Recap: 2000, 2001, 2002, 2003, 2004 , 2005, 2006, 2007 , 2008 , 2009 , 2010 , 2011 , 2012
The Best Exotic Marigold Hotel (John Madden, 2011)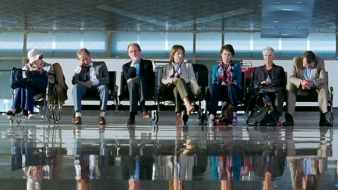 Featuring an ensemble of elderly British screen actors and a script that works overtime to give each actor at least one big scene, The Best Exotic Marigold Hotel inevitably has a few moments that manage to lift off the ground, even if in the final tally it feels like a waste of talent. Indeed, this multi-character piece probably owes more of its modest success to its casting directors (Michelle Guish and Seher Latif) than to John Madden, the director of the film itself. Madden, who has just delivered one of his most controlled and exciting films to date with The Debt, offers up a slack and predictable feel-good product that fails to do much beyond unquestionably dole out a series of wish-fulfillment scenarios to its cast of sad sacks. One can only imagine what The Debtís trio of aging ex-assassins would make of Marigold Hotelís metaphorically impotent crew.
The vignettes that introduce us to each character at the start of this film suggest something darker than what actually follows. The disappointment and resignation that the cast of elderly characters feels early on evaporates almost immediately after they arrive at the dilapidated Jaipur hotel that gives the film its title. The sweltering climate of India gives these seniorsí golden years both a literal and metaphorical sheen, leading each to a bout of unconvincing hand-wringing and an inevitable cathartic epiphany. This structure is sound enough, I suppose, but it grows increasingly dull watching one character after another assess their regrets and determine that the future that lies ahead will be brighter. The simpleminded script here does not muster the wisdom that one would expect, given its charactersí ages, but rather dispenses with the same mindless pap that can be found in films for young children.
The Best Exotic Marigold Hotel coasts with a middlebrow sensibility that takes few chances. One character is revealed to be gay, and a low caste woman is shown to have a life outside her job, in moments that are meant to surprise but reveal only how safe the film is. Any hints of class conflict inevitably resolve into mutual understanding, any fears of an uncertain future are assuaged fully, and the frequent sex jokes are uniformly tame. The characterizations here range from wistful (Tom Wilkinson) to one-note (Maggie Smith) to quietly inspiring (Judi Dench), but Penelope Wilton, as the sourpuss among the group, takes top honors. She is the only one who refuses to be taken in by the cheap exoticism and trite affirmations that Hotel offers its guests.
47
Jeremy Heilman
06.20.12