Newest Reviews:
New Movies -
Abraham Lincoln: Vampire Hunter
Old Movies -
Touki Bouki: The Journey of the Hyena
The Strange Affair of Uncle Harry
Archives -
Recap: 2000, 2001, 2002, 2003, 2004 , 2005, 2006, 2007 , 2008 , 2009 , 2010 , 2011 , 2012
Routine disclaimer: After viewing 225 or so 2003 releases, I felt I had a pretty good handle on the year in film. Then I considered all of the movies screened in festivals that I missed, those that left theaters before I had a chance to catch them, and those that premiered directly on television or DVD... It's obvious that no such list is definitive, but I still feel compelled to make that clear. The criteria used in determining eligibility was a U.S. theatrical premiere in 2003. Without further ado...
The Top Ten Films of 2003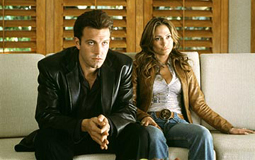 10. Gigli - After the critical demolition it's received, I hate including Gigli at the bottom at my year's top ten list. After all, the number ten spot is traditionally reserved for guilty pleasures and films that the listmaker feels he needs to make a special case for. I don't really feel either of those criteria apply with Gigli. It's one of the most probing comedies in recent memory, a progressive step forward for mainstream American film's attitudes about gender roles, and a truly touching deconstruction of masculine aggression. Perhaps more than any other movie this year, enjoyment of Gigli required the viewer to forget the hype. If you're willing to remove the word "Bennifer" from your vocabulary before you view it, you might be pleasantly surprised.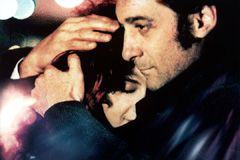 9. Friday Night - When critics began falling over themselves to praise the mediocre mood piece Lost in Translation this fall, I momentarily wondered if somehow the rest of the world forgot about Claire Denis' doubly impressive Friday Night. Twice as insular yet twice as warm as Coppola's feature-length posturing session, Denis' film mines genuine suspense from its serendipitous intimate encounter. Like Translation, Friday Night creates an astringent atmosphere where the creation of its characters' bond becomes an attempt to reclaim human connection for themselves. Denis doesn't need to douse her protagonists in cynicism to do that, however, and as a result, she creates an intensely subjective experience that is capable of appealing to more than the most cynical of moviegoers.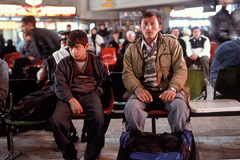 8. In This World - If you've already glanced below, you might have noticed that I declared Michael Winterbottom's In This World the best documentary of the year. Though the story that this remarkable humanist statement tells is technically fictional, it is so grounded in truth, and filmed in a style so naturalistic, that it becomes as potent a call to address real-world problems as any non-fiction film. Besides, in a year when documentaries are largely being praised for their ability to resemble fictional works, why not acknowledge the rare film that could pass for (and often is) recorded reality? Throughout In This World, which chronicles the epic journey two Pakistani immigrants endure as they illegally immigrate to London, Winterbottom deftly avoids melodrama and consistently reminds the audience of the larger picture that his two lead characters represent. His approach radiates respect for his subjects and strives for human connection at a time when so many intelligent movies look at the world and find only reasons to be alienated.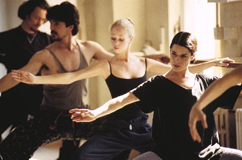 7. The Company - Robert Altman's best work in a decade, The Company, is so effortless an expression of its director's style and worldview that it's easy to take it for granted. One of the greatest ballet movies ever made, it distinguishes itself from the genre by gently eschewing the backstage drama's central cliché. It never becomes the story of a prima donna's rise to fame. Star and producer Neve Campbell holds her own among a cast comprised partially of professional dancers, but, almost amazingly, does little more than that. She's given a graceful, nearly wordless, romantic subplot, but even that is carefully interwoven into a fugue of the company's artistic, financial, and practical concerns. It's difficult not to read a film that so strongly stresses the amount of effort that goes into the presentation of the seemingly effortless as a summation of Altman's body of work, especially when the collection of an ensemble of talent seems so key to making the magic happen. It's not hyperbole to state that The Company does the master's remarkable oeuvre, and unique method of filmmaking, justice.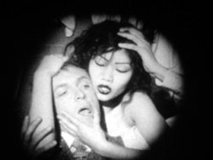 6. Cowards Bend the Knee - Unfortunately only on this list due to a scant commercial run in Chicago, this near-masterpiece courtesy of Canadian Guy Maddin has yet to achieve widespread distribution. Its brief, 60-odd minute run time might be a stumbling block, as might the fact that it's a silent film (initially conceived as a gallery installation), but to these eyes it is as approachable and profound as anything Maddin has made since Careful. Side-splittingly funny at times, this Freudian tale of hockey players, amnesia, incest, and abortion also seems to be the most personal work yet from the retro-master. Though the tide seems to slowly be changing, it seems as if it's time for film culture to move Maddin beyond cult status and acknowledge the worth of his idiosyncratic voice and respect for cinematic history.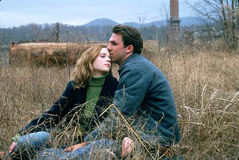 5. All the Real Girls - David Gordon Green's second feature managed to capture a feeling so precious and sensitive that I found myself loathe to write about the movie, lest I demystify the feelings I felt while watching it. Rare is the love story that manages to capture the feelings of elation and infatuation that come with the act of falling in love as successfully as this one, and while it teeters on the edge of preciousness from time to time, the remarkable work of Zooey Deschanel and Paul Schneider ensures that the screenplay's dreams emanate from recognizable dreamers. What links Girls with George Washington, Green's similarly high-caliber debut feature, is the way it suffuses its wide-eyed romanticism so thoroughly into its scenes of distinctive local color. A slightly more mature outlook distinguishes the latter film, however. Everything in All the Real Girls aches with possibility, which makes the threat of change, and upset to idyllic love, a palpable force.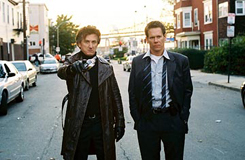 4. Mystic River - Clint Eastwood's grand statement about community standards shocks mostly because it reveals the truism that even the most seemingly typical and homogenous of communities don't share a common moral standard. After viewing Mystic River, I found myself shaken, utterly unable to take comfort in its resolution, which means it's either one of the most effective muckraking Hollywood potboilers I've seen or something grander that approaches a truly democratic tragedy. Eastwood harnesses the year's best ensemble of actors to create an atmosphere where the audience is incessantly reminded of the toll that the drama is taking on the lives of those involved, and at the same time manages to make it larger than them. It's a film that pulled me in, shook me around, left me dazed, and somehow regretting that I couldn't go through all that more often.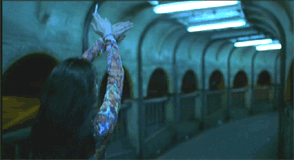 3. Millennium Mambo - Hypnotic in the extreme, Millennium Mambo appears to be Taiwanese director Hou's master-shot style come to fruition and turned up a few notches. Like several of his films, it is a potent commentary on the toll of social change on the people in that society. Here he sets his sights on a more intimate scale than usual, opting to focus on the gradual maturation of a young girl. What ensues is a series of cyclic episodes that reveal the traps of a hedonistic culture that essentially robs youth of a childhood by expecting them to function prematurely as adults. Appropriately, the backdrop of this fast-paced lifestyle is chock full of flashy diversions, among which one could count Mark Li Ping-bin's mesmerizing cinematography and Lim Giong's superb techno soundtrack. The more the technical aspects of this movie pull you in, the more assertive Hou's message becomes. The director might have left behind the opium dens of his Flowers of Shanghai, but he has no trouble finding similar forms of anesthesia in a modern milieu.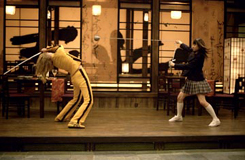 2. Kill Bill: Volume 1 - The natural reaction to the prospect of this new Tarantino movie seemed to be skepticism. After all, who could think of a fanboy-targeted romp through genre cinema as a progression for the director after the relatively staid move toward maturity he made with Jackie Brown? After seeing the first half of Kill Bill twice, I'm still not sure that I think of it as progression, per se, but I'm more convinced than ever that Tarantino can more than deliver in just about any genre he tries his hand in. It's impossible to watch and not be aware that what we're seeing is a pastiche, but that's partially because Kill Bill is throwing more at us than we could possibly expect to see from one creative team. The end result is so captivating and remarkably cohesive that the director easily skirts any accusations that he's a pilferer. Everywhere, in between the clever lines of dialogue and in the way he chooses to hold his shots, Tarantino seems to be revealing himself. Now, I'm a believer. Kill Bill: Volume 2's upcoming release has me expecting a masterpiece. Tarantino has set a ridiculously high standard for himself here, but if there's anyone capable of pulling it off...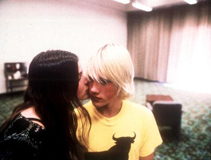 1. Elephant - Gus Van Sant's second attempt, after Gerry, to apply the lessons he's learned from watching Bela Tarr films produces much greater returns with this searing, searching drama about high school violence. With a roaming Steadicam, a criss-crossing time structure, and a seemingly endless sense of curiosity, Van Sant's Elephant creates a world that suggests myriad possibilities before plunging it into tragedy. It's tempting to call what the film presents an elegy, but it's far too interested in life, in examining it and debunking an easy assessment of it, to be accused of fixating on death. When the camera tracks after a character in Elephant, they suddenly cease to be a stereotype, but in this film's oppressive environment, where people are encouraged to define themselves, there exists a contradictory impulse (perhaps a defense mechanism?) to pigeonhole all others. Time and again, with astute observation, the jock that walks by or the geek in the corner becomes someone more. The seeming omnipotence that Elephant gives the audience is revealed to be a series of constrained perspectives, and in that constraint of perspective, Van Sant provides his greatest observations on our real life tragedies and high school realities. The film suggests that in order for high school to empower those who attend, so that they might find their individuality, it needs to cut them off from the realities of the world and deliberately constrain their understanding. Suddenly, in this microcosm, small social snubs matter more, and the prospect of consequences for negative actions seems more remote. Real world repercussions and motives are a non-issue to those this mindset, because they aren't functioning in the real world. Everything about Elephant's style begs us to assume the mindset of the people that its eventual tragedy is engineered by and targeted at. It's only by doing that that true understanding can begin.
The Next Ten:
Cold Mountain, Something's Gotta Give, Charlie's Angel's: Full Throttle, Raising Victor Vargas, The Human Stain, The Texas Chainsaw Massacre, Looney Tunes: Back in Action, The Good Thief, Down With Love, Girl With a Pearl Earring
Achievements in Individual Categories:
Best Director - Gus Van Sant, Elephant (Runner-up: Quentin Tarantino, Kill Bill: Volume 1)
Best First Feature - Raising Victor Vargas (Runner-up: The Texas Chainsaw Massacre)
Best Ensemble - Mystic River (Runner-up: Cold Mountain)
Best Actress - Zooey Deschanel, All the Real Girls (Runner-up: Shu Qi, Millennium Mambo)
Best Actor - Sean Penn, Mystic River (Runner-up: Nick Nolte, The Good Thief)
Best Supporting Actor - Peter Sarsgaard, Shattered Glass (Runner-up: David Hyde Pierce, Down With Love)
Best Supporting Actress - Renee Zellweger, Cold Mountain (Runner-up: Holly Hunter, Thirteen)
Best Original Screenplay - Martin Brest, Gigli (Runner-up: David Gordon Green & Paul Schneider, All the Real Girls)
Best Adapted Screenplay - Nicholas Meyer, The Human Stain (Runner-up: Brian Helgeland, Mystic River)
Best Editing - Peter Christelis, In This World (Runner-up: Sally Menke, Kill Bill, Volume 1)
Best Cinematography - Mark Li Ping-bin, Millennium Mambo (Runner-up: Harris Savides, Elephant)
Best Art Direction - Martin Whist & Andrew Laws, Down With Love (Runner-up: David F. Klassen & J. Michael Riva, Charlie's Angels: Full Throttle)
Best Costumes - Kumiko Ogawa & Catherine Marie Thomas, Kill Bill, Volume 1 (Runner-up: Joseph G. Aulisi, Charlie's Angels: Full Throttle)
Best Sound - Tu Du-Che, Millennium Mambo (Runner-up: Scott Sanders, Open Range)
Best Sound Editing - David A. Cohen, Elephant (Runner-up: Wylie Stateman, Kill Bill, Volume 1)
Best Visual Effects - Rodolphe Chabrier, Irreversible (Runner-up: Misako Saka, Ichi the Killer)
Best Makeup - Yuuichi Matui, Ichi the Killer (Runner-up: Lee Grimes, Monster)
Best Original Score - Lim Giong, Millennium Mambo (Runner-up: Hans Zimmer, The Last Samurai)
Best Original Song - A Pure Person by Lim Giong, Millennium Mambo
Best Documentary - In This World (Runner-up: Winged Migration)
Best Animated Film - Looney Tunes: Back in Action
Ten Best Foreign Films - Millennium Mambo, In This World, Friday Night, Japon, Together, demonlover, Winged Migration, Ichi the Killer, Irreversible, Platform
Ten Best '02/'03 Films Still Without U.S. Distribution - Alila, Who Killed Bambi?, The Virgin of Lust, Happy Here and Now, Raja, A Heart Elsewhere, Goodbye, Dragon Inn, L'Historie de Marie et Julien, The Brown Bunny, La Vie Nouvelle
Ten Best Films With Distributors, Still Awaiting Release - Dogville (Lion's Gate), Twentynine Palms (Wellspring), Hero (Miramax), Code 46 (United Artists), Springtime in a Small Town (Palm Pictures), Time of the Wolf (Palm Pictures), Zatoichi (Miramax), This So-Called Disaster (IFC Films), The Trilogy (Magnolia), Distant (New Yorker)
12-29-03
Jeremy Heilman